Reading & Leeds, Glastonbury, Isle of Wight – should Victorious Festival be added to the list of iconic festivals? Yes, if this year's eclectic line-up is anything to go by! Here were take a detailed look at the festival that will be taking Portsmouth by storm on August 25, 25 and 26, 2019.There will be 18 stages and spaces at this weekend's festival with acts as diverse as New Order, The Specials, Idlewild, Ziggy Marley, Lewis Capaldi, Rudimental, Ash, Will Varley, Two Door Cinema Club, Bloc Party, James Bay and countless other household names from the last four decades or so.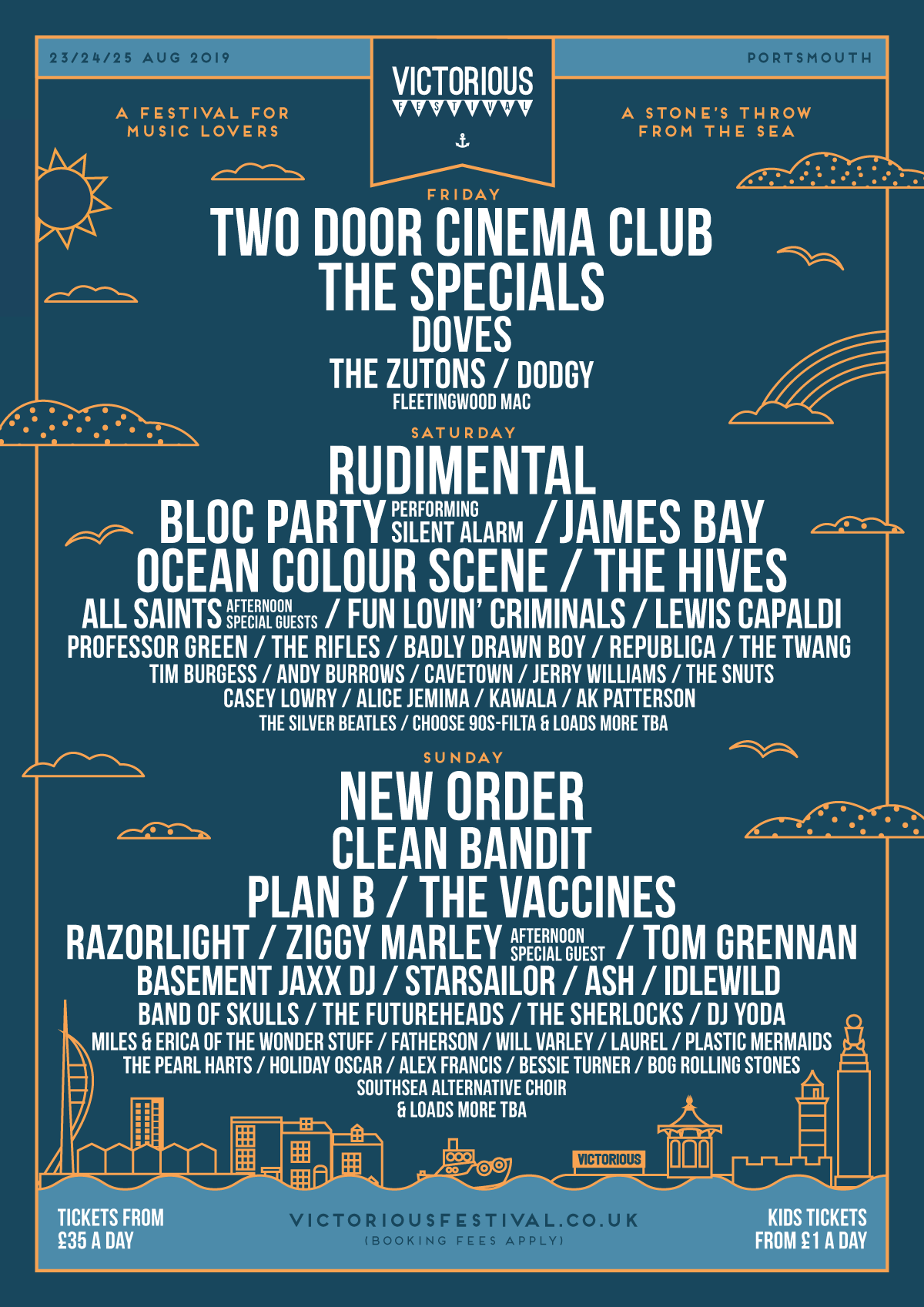 Compared to the household name festivals, Victorious Festival tickets are surprisingly good value. It's £40 for a Friday ticket and £45 for a Saturday or Sunday day ticket, and just £8 for five to twelve year old children and £1 for under fives! Even the booking fees aren't too eye-watering; £4.50, 80p and 10p respectively. Weekend tickets are £125 for adults, £24 for five to twelve year olds and £3 for under fives (plus 10% booking fee per ticket.)
Being a city centre festival (right by the waterfront) there are plenty of transport options. There are three train stations within walking, cycling or a short bus journey away. The festival website has detailed information about a variety of different transport methods. Importantly, if you want to use the festival's car parking, you'll need to add that when you buy your festival ticket at the cost of £40 plus booking for the long weekend.
Accommodation also benefits from the central location; if you don't want to camp, you don't have to! Again, head over Victorious' website for a range of options from Air B'N'B to holiday lets and hotels. If you want to camp, there's off-site camping with a free shuttle bus to and from the festival site. It's just £20 per extra per adult weekend ticket and £10 per extra per child ticket (no camping charge for under five year olds). There's a special camping zone for families, as well as an accessible camping zone. Just make sure you select the correct festival + camping ticket.
Speaking of accessibility, there will be accessible toilet facilities at every toilet block and Blue Badge parking is free. There will also be British Sign Language interpreters for some performance. Head to the festival's website for full details and contact information if you have any questions.
That's the logistics sorted but what about the experience? It's going to be great for little ones. As well as those cheap tickets, there will be appearances by Octonauts, Peppa Pig, Transformers and fairytale princesses as well as circus skills, face-painting and even Jedi skills!
Another important aspect of any festival is the food. As well as the usual range of festival trucks, there will be brand names including Papa John's Pizza and Linda McCartney's vegetarian food, as well as more exotic choices like Tibetan food, paella and even ostrich burgers!
It sounds like there were be a range of options and prices but if you're really worried about keeping costs low or street food isn't your think, the ticket allows readmission up to 8:00 p.m. should you want to pop out for a snack or a meal.
So, what are you waiting for? Gather your friends and family and plan a trip down to Portsmouth for a weekend of varied music, food and fun! Looks like there are going to be temperature highs of around 24 degrees so don't forget the sunscreen!
Follow me for more reviews, news and photos!
WordPress: musiccloseup.com
Twitter: @musiccloseup
Instagram: musiccloseup
Facebook: musiccloseup