Expectations are necessarily high with a name like that and North Mississippi Allstars don't disappoint. Their latest album has guest appearances from Jason Isbell, Mavis Staples and many more talented local musicians.
Of course, the permanent members are the allstars full-time. The family band are returning to their roots with Up and Rolling by recapturing their original communal spirit and regional influences. The band formed by brothers Luther and Cody Dickinson has an interesting origin story. It came to be in 1996, around the time that photographer Wyatt McSpadden arrived in North Mississippi looking to photograph local musicians. The brothers weren't to see the resultant photos for over two decades. In the meantime, they saw success with ten studio albums incorporating roots, improvisational spots, and experimental excursions. 
When McSpadden tracked the brothers down in 2017 to show them the photos, the impact was profound. Luther explains "the images stopped me in my tracks and blew my mind. The music that changed our lives was captured in these photographs. Cody and I wanted to set the music free and record an album to accompany these photographs illustrating what Mississippi music sounded like in 1996 – and what it sounds like now." So that's the premise of Up and Rolling; a tour of a vibrant, music-infused rural community. The title track is a supremely chilled celebration of a lazy back-porch summer with friends sharing hallucinogens. 
This musical odyssey included covering songs by the musical heroes of the region. For this, Otha Turner's granddaughter Sharde Thomas got involved. "She was only a child when she became his apprentice and heir to the bamboo throne of fife and drum music. Now she's the Queen of the Hill Country and my favorite singing partner," says Luther. Thomas duets on Otha's Call That Gone and R.L. Burnside's raunchy song Peaches.  
As for Mavis Staples, she brings the heritage by singing on her family's classic 1965  anthem What You Gonna Do? Luther saw the importance of honouring regional, national, musical and personal history "Freedom Highway became one of the records that changed my life…What You Gonna Do? is the bluest gospel song I have ever heard."
The Dickinson family are themselves a musical force in the area. Luther and Cody produced the album that they recorded at the Independence, Mississippi, studio set up by their legendary father, Jim, who produced acclaimed records by Big Star and The Replacements. 
To honour their family's heritage, they teamed up with Jason Isbell and Duane Betts to record a new arrangements of Mean Old World, which their father had cut with Duane Allman and Eric Clapton during the Layla sessions. 
So, how does the album sound? Luther explains it best: "the boogie is rooted, but spreads evasively from the kudzu jungle grown-over Junior's concrete slab and Otha's porch boards through the Zebra Ranch's razor wire chain link fence. Transcending time and space, the music reaches out into the dark of night like the wisteria vine, looking for free-hearted souls to latch onto and wedge into the foundations of hate, slowly tearing down walls a generation at a time."
Up and Rolling will be out on October 4 on digital, CD, standard vinyl, limited edition black and white vinyl from independent retailers, and clear and black smoke coloured vinyl if pre-ordered from New West Records. 
UK fans also have a chance to see the acclaimed band live on October 23, 2019, at Omeara in London. Tickets are on sale now.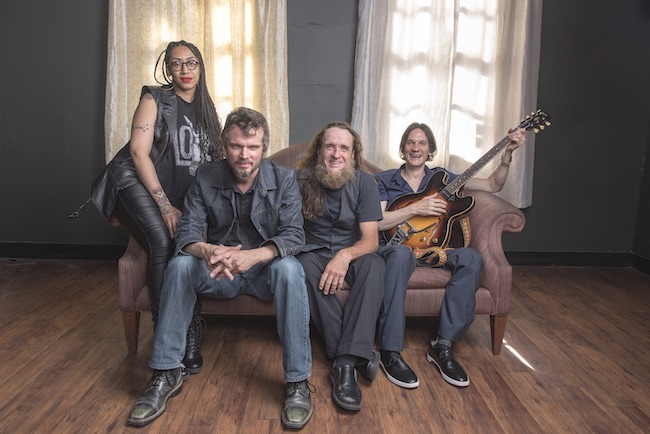 Follow me for more reviews, news and photos!
WordPress: musiccloseup.com
Twitter: @musiccloseup
Instagram: musiccloseup
Facebook: musiccloseup