On the radar since the Americana Music Association conference in January this year, the British Country Music Festival (BCMF) sauntered into an increasingly crowded festival market with five aces up its sleeve:
An indoor venue, so rain won't stop play and, what's more, that venue is the world famous Winter Gardens!
Accommodation (and pretty much everything else) in Blackpool is ridiculously cheap, so no shivering in a tent required!
Ticket prices are comparatively reasonable for a weekend festival: £75+ booking fee for standard weekend passes, or £110 + booking for a VIP ticket with an exclusive viewing area, VIP bar and other goodies. Children can attend if accompanied by a 'Junior' tickets (ages 7 to 18) are £35 +bf and for under 7s it's free.
 You don't need to get a magnifying glass out to find female artists – for once, the festival poster wouldn't look almost entirely redacted if you removed the male-only acts.
Whereas the bigger 'specialist' summer festivals focus on Americana and country as an undifferentiated mass, this one's specialising in British country music* in particular. It's sure to give a much needed boost to UK artists who are often relegated to Friday/early afternoon slots/the smallest stages elsewhere.

* The exception that proves the British country music rule is Sarah 'voice of an angel' Darling; considering the amount of time she's here and family connections, she's basically British anyway!
The festival runs from September 13 to 15, 2019. Alongside Darling, performers include major label artists Ward Thomas and Catherine McGrath, rising stars like Twinnie and Remember Monday, and Music Closeup favourites such as Worry Dolls and Megan O'Neill.
It's also worth looking out for Simon James who will be well up for playing a high-profile event on home turf.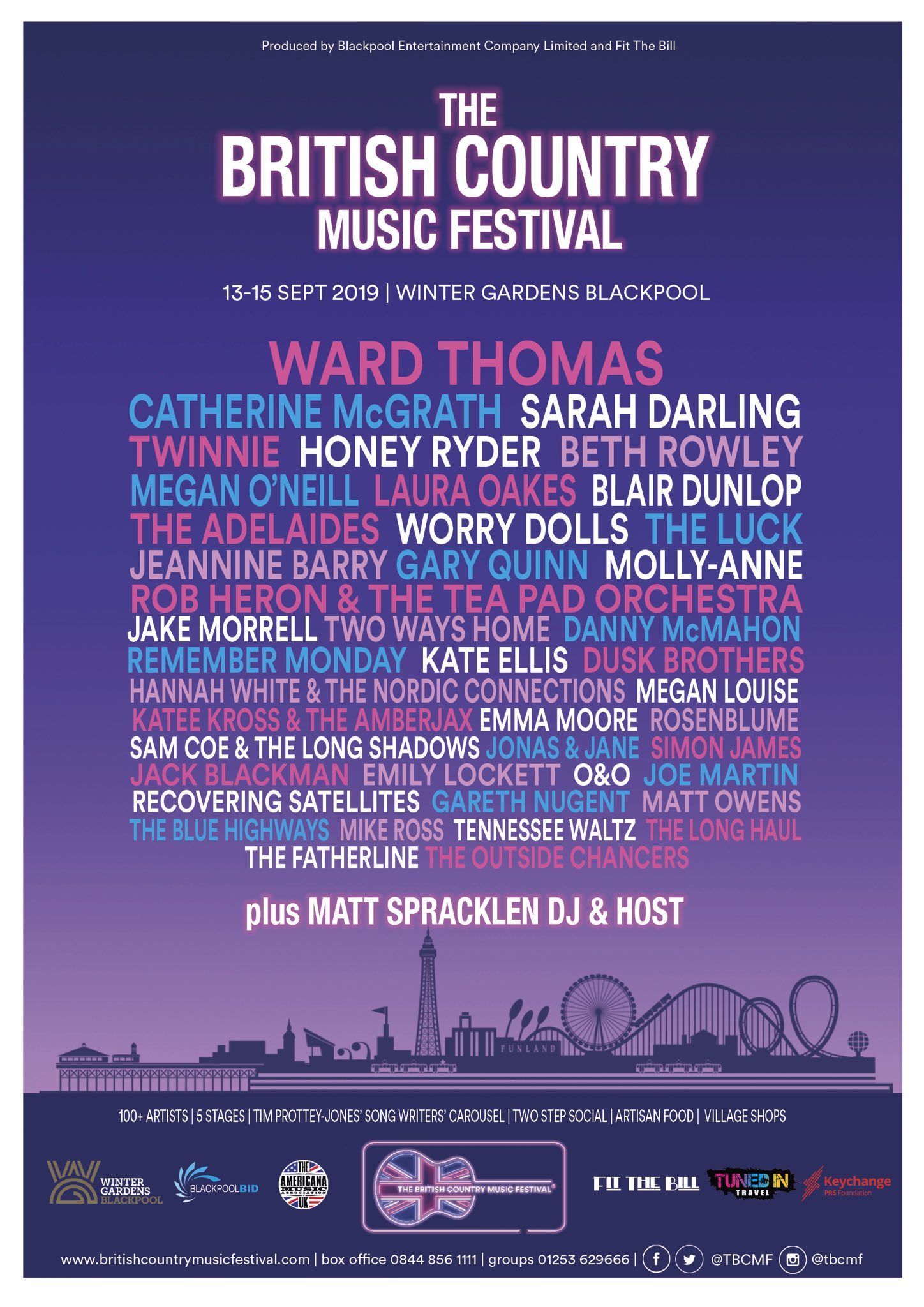 Speaking of which, I'm from just down t'road too! In honour of something good actually happening in Blackpool, here are five top tips for making t'most of your time up north.
Pack for the weather: It looks like this weekend could be unseasonably warm, touching 19 degrees at times (66 Farenheit, for Darling's benefit). Being a seaside resort, however, the breezes can be strong. Bracing is a pretty good description of a Blackpool day in September or, as we say around here, 'a bit parky.' Being the North, it also rains A LOT. Combine the two and it can be a fair few degrees colder than down south, so it's worth bringing some layers and a waterproof just in case. No need to worry if the weather does rurn, though – Nashville Grey Skies would be fitting for a British country music festival!
Choose the right station: There are several train stations in Blackpool. The one you want for the Winter Gardens is Blackpool North. It's about 10 minutes walk to the venue but that's nowt compared to the hike from Blackpool South!
Make the most of your mornings: The music's due to start at 4:00 p.m. on Friday, 12:00 p.m. on Saturday and 11:20 a.m. on Sunday. It'd be a shame to visit Blackpool without seeing the sights so even if you've danced the night away to country hits served by DJ Matt Spracklen, try to get up and about early if you can.

Blackpool Tower: Right near the Winter Gardens is Blackpool Tower, a half-height replica of Paris' Eiffel Tower. It's 158 metres tall and is celebrating its 125th year of dominating the Blackpool skyline. As well as a viewing deck, there's a clown circus, a Dungeons attraction, mini golf, a virtual reality area, and Tower Ballroom where countless local couples met back in the day, and where they film the Blackpool special of Strictly Come Dancing each year. [Note, the ballroom is only open on Sunday this weekend, and the circus is not running on Friday.]

Tickets are slightly cheaper online and there are combo packages. However, if you arrive by train and prepare by printing out a voucher from the Days Out website, you can get 2 for the price of 1 tickets to various Tower attractions as well as the Sea Life centre. Check out what's best for you via the Blackpool Tower website. If you want to do multiple attractions, then a combo ticket might end up better value, but if you're just after one and there are two of you, you're quids in with Days Out!

Blackpool Pleasure Beach: The other main Blackpool tourist attraction is the Pleasure Beach theme park; home of The Big One, Valhalla, Icon, Ice Blast, Nickelodeon Land, ice-skating shows and even a wooden rollercoaster from the 1930s! Ticketing is more straightforward in this case. If you book online at least a day in advance, it's £28 for an unlimited ride wristband. If you're not into heights and adrenaline, there's a park pass for £10 which allows you to see the impressive grounds, spend time with your friends (holding their coats, judging from personal experience!) and go on some of the tamer rides. Individual ride tickets are available if anything takes your fancy.

Head to a chippy:

Lancashire vies with the East End of London for the honour of popularising fish and chips in the 1860s, and Blackpool has proudly kept up the tradition ever since. If you don't do fish, check out that other Northern staple, pie. With the Winter Gardens being just a few blocks from the sea, it's definitely worth taking a stroll down 'the Prom' (promenade) and on to one of the town's famous Victorian piers with a bag of chips. 




To really eat like a local, get a bread bap/bun (roll) to make a 'chip butty.' Trust me on that! Another Northern favourite from the chippy is scraps, bits of batter left over from frying the fish, that they can add to your chips. It's tastier than it sounds, especially if you don't fancy a whole fish but you'd like a bit of the flavour. They're free so if you're a fish eater, don't knock it until you try it!

Blackpool rock is more of a touristy thing, and it's basically hardened, coloured sugar so it's not too diet friendly! Still, if you're in town for the first time, you might want to give it a whirl, and it's an easy gift to take home. After all, it's not often that you get to eat food with writing in it!

See the lights: BCMF is on during Blackpool Illuminations, which is the most magical time of the year in the town. It's a 6.2 mile/10 kilometre stretch of illuminated tableaux using 1 million bulbs. The Lights, as they're known locally, date back to an attraction in 1879 where 8 lamps dazzled tourists as 'artificial sunshine' a year before Edison patented the electric light bulb.

You can walk or drive the prom to see t'Lights but the most traditional and fun way is to get a tram. Some are open-topped and they're often lit up, making them part of the spectacle themselves! The illuminations are switched on from 7:45 p.m. to midnight on Friday and Saturday and until 11:00 p.m. on Sunday. Here's the tram timetable.
So, that's a quick tour around the delights of Blackpool. You'll have to be quick, mind; BCMF have a pretty packed schedule to entertain you without leaving the Winter Gardens. Timings are subject to change so do be sure to keep an eye on their social media and information at the venue during the event, but here's a general idea of what to expect.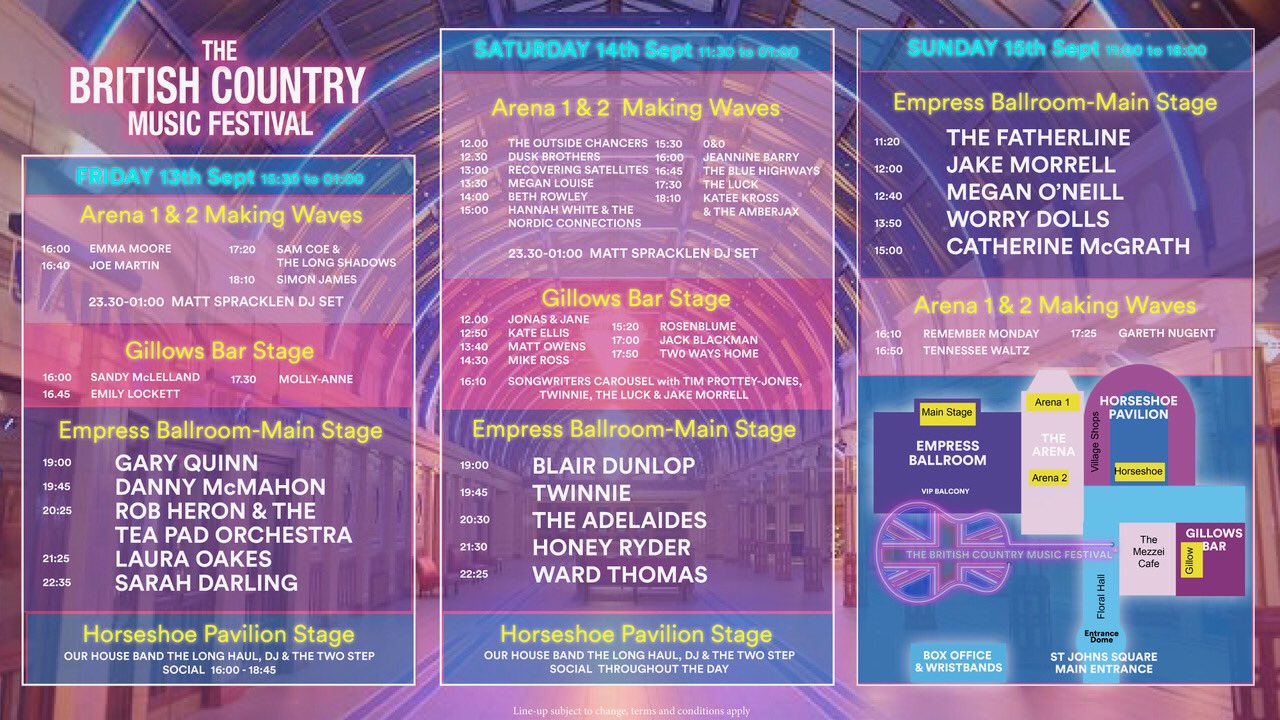 Follow me for more reviews, news and photos!
WordPress: musiccloseup.com
Twitter: @musiccloseup
Instagram: musiccloseup
Facebook: musiccloseup
Photo credits:
By Vuvar1 at the English language Wikipedia, CC BY-SA 3.0
Blackpool Tower by zergo512
Pier by Mdbeckwith – Own work, CC BY 3.0.
Illuminations by Mjobling