After 10 albums of roots, blues and mountain music focusing on improvisation and experimentation, the founders of North Mississippi Allstars, brothers Luther and Cody Dickinson, were inspired to create their latest record by a photograph. It was taken by Wyatt McSpadden in 1996, but the brothers didn't get to see it for over 20 years.
Luther explained "the images stopped me in my tracks and blew my mind. The music that changed our lives was captured in these photographs. Cody and I wanted to set the music free and record an album to accompany these photographs illustrating what Mississippi music sounded like in 1996 – and what it sounds like now."
They envisaged Up and Rolling as a musical tour of a vibrant, music-infused rural community, including collaborations with and covers of heroes of the region, including Mavis Staples, Jason Isbell and Otha Turner.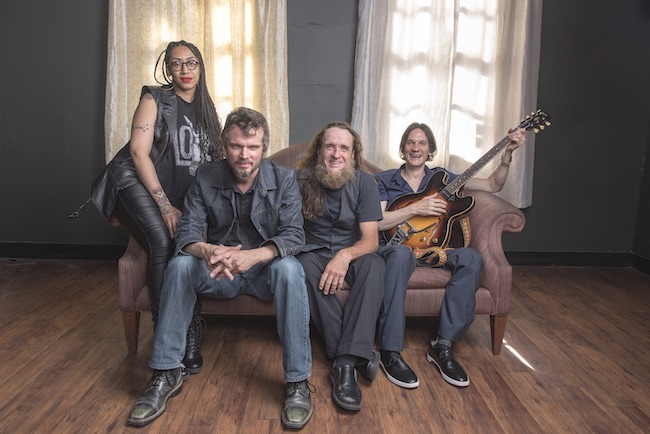 On that basis, Otha Turner's granddaughter Sharde Thomas got involved. "She was only a child when she became his apprentice and heir to the bamboo throne of fife and drum music. Now she's the Queen of the Hill Country and my favorite singing partner," said Luther.
So, how does the album sound? Luther explained it best: "the boogie is rooted, but spreads evasively from the kudzu jungle grown-over Junior's concrete slab and Otha's porch boards through the Zebra Ranch's razor wire chain link fence. Transcending time and space, the music reaches out into the dark of night like the wisteria vine, looking for free-hearted souls to latch onto and wedge into the foundations of hate, slowly tearing down walls a generation at a time."
Call That Gone has almost a military drum beat but the instrumentation soon layers up to funky rather than regimented. We're introduced to two voices, echoing and challenging each other before the instruments do the same.
Having just reviewed Mavis Staples' We Get By, it's great to hear that eminently familiar voice again so soon! She brings the heritage by singing on her family's classic 1965  anthem What You Gonna Do? Luther saw the importance of honouring regional, national, musical and personal history: "Freedom Highway became one of the records that changed my life…What You Gonna Do? is the bluest gospel song I have ever heard." Whereas the previous song obliquely mentioned black crepe, this one specifically calls out the specter of death. The threat is not specified but the fear is real.
The album's title track is so laid back it's practically horizontal, and it's soon clear why: "Grew up a Mississippi hippie tripping LSD/Smoking stems and seeds and drinking mushroom tea." The title track is a supremely chilled celebration of a lazy back-porch summer with friends sharing hallucinogens.
Drunk Outdoors continues the theme of sharing good times with friends in the Mississippi.
Peaches is R.L. Burnside's blues rock behemoth with a sultry response vocal from Otha Turner's granddaughter Sharde Thomas. The song is is dripping in euphemism.
The Dickinson family are themselves a musical force in the area. Luther and Cody produced the album recorded at the Independence, Mississippi, studio set up by their legendary father. Jim Dickinson produced acclaimed records by Big Star and The Replacements.
To honour that heritage, they teamed up with Jason Isbell and Duane Betts to record a new arrangements of Mean Old World, which their father had cut with Duane Allman and Eric Clapton during the Layla sessions. It's classic blues to the core, brought home with an extended guitar solo signalling that blues guitar skill survives and thrives to this day.
Time for a slight eyebrow raise about the sentiment of Out on The Road featuring R.L. Burnside's grandson, Cedric Burnside: "I've got to find my baby before she do something wrong."
Lonesome in My Home subsumes the vocal to the deep bass and guitar riff. The vibe for Bump That Mother is even stronger, but both singers are up to the challenge of holding their own against the musicianship because they've got something significant to say: "Growing up in Mississippi we were trouble free but we learned the stories of the troubled history/hard to tolerate a hateful people." The song switches from carefree activities to a melodic support of burning the state flag. Statement made, stand taken and they can get back to "making love in the car."
Living Free is the most summery, up-beat plea for equality you're likely to hear, though the sentiments are pin sharp: "She shed blood in the name of love and if we shall not overcome/you and unite and fight for freedom/They forgot about equality in the land of the free."
Cedric Burnside's back for Take My Hand. The duet of two male voices has the themes of a  spiritual but the instruments of the blues and a booming, passionate Tom Jones style sound.
Otha's Bye Bye Baby has the crackle and ambient noise of a field recording of Otha Turner, closing out a record about how people, place and time (making time and a moment in time) make a community.
UK fans have a chance to see the acclaimed band live on October 23, 2019, at Omeara in London. Tickets are on sale now. 
Up and Rolling is out now on digital, standard vinyl, limited edition black and white vinyl from independent retailers, and clear and black smoke coloured vinyl if ordered from New West Records. 
The record is also available from Amazon UK. At no additional cost to you, I will earn a small commission to help keep this site running if you click the image below to buy it. Thank you!
Follow me for more reviews, news and photos!
WordPress: musiccloseup.com
Twitter: @musiccloseup
Instagram: musiccloseup
Facebook: musiccloseup