In news that should surprise to no-one, Bruce Springsteen's latest record shot straight to the top of the charts in the UK. That's his eleventh number one, making him one of the top 5 acts with the most number ones alongside luminaries like The Rolling Stones and David Bowie.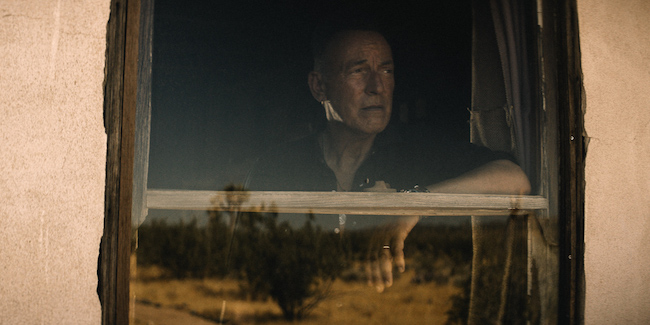 There are now two ways treat yourself or the Springsteen fan in your life, as the studio album has been enhanced by a new release. Western Stars: Songs From The Film is the audio of the live tracks backed by a full band and orchestra, plus a bonus cover of Rhinestone Cowboy.
So, how do the songs sound? Here, we take a track-by-track look at the original version of Western Stars.

There's no mistaking that Springsteen has taken a more Americana approach, both musically and thematically. There's a hint of the wanderlust that imbues Eddie Vedder's Into The Wild soundtrack: "maps don't do much for me, friend/I follow the weather and the wind." Thankfully, it's without Chris McCandless' lonely fate. Springsteen's rolling stone troubadour's journey is all about meeting people.
The Wayfarer proves that Hitch Hikin' was no anomaly. It's a world away from The E Street Band as strings and plucked percussive sounds swirl. Springsteen *sings* more than we've become used to from the frenetic anthems he's known for, and it sounds good. Again, we hear of a wanderer, though this seems less positive and more restless than in the first song. He seems to be walking away from the possibility of security and love. His compulsion to roam is overriding his best interest, and he knows it.
Tuscon Train appears like another nomad's tale, as mention of 'Frisco is almost de rigueur in American film and literature about such journeys. So often a hallowed destination, here's it's a place to escape from, now "tired of the pills and the rain." However, the protagonist recognises the risk of moving on without his lover and is ready to welcome her to his new life. He's found a salve for his wandering ways; he's become a train driver so he can roam but still go home every night. Locomotive style metronomic percussion bookends a piece that's filled with orchestral strings.
The title track, Western Stars, is from the perspective of an ageing actor, and it's the first song of the record that situates itself in modern life; it features a "little blue pill/that promises to bring it all back to you again."
The fading star is trying to participate in life but feels stalked by death. He's feeling lucky just to wake up each morning, knowing he's soon destined for a celebrity graveyard. He reminisces about working with John Wayne and about American ways of life that are also fading away: "Here's to the cowboys, and the riders in the whirlwind." It's a quiet, reflective, interesting song.
Sleepy Joe's Cafe seems closest to classic Springsteen so far, but it's much calmer and folksier. Not to mention it's a happier song than his earlier tunes that would share observations like "summer girls in the parking lot slap on their makeup and they flirt the night away." In this tale, a World War II veteran comes home and makes good; no flashbacks, no addiction, no unemployment, no homelessness. Instead, "he married May, the highway come in and they woke up to find they were sitting on top of a pretty little gold mine." They share their happiness with the community, providing a happy spot to share good times.
The subtitle of Drive Fast (The Stuntman) tells you all you need to know. It's the unfurling of memories of a man who lived a fast life, relating how he had been searching for highs (literally and figuratively) since the age of nine, accepting pain in his constant search for adrenaline rushes. The racing driver stuntman sings slowly, carrying physical and emotional breaks and scars: "Figured maybe together we could get the broken pieces to fit/drive fast, fall hard, keep me in your heart."
Simply the title of Chasin' Wild Horses should prove that this Americana thing is no passing fad; it's a thematic album. Strings introduce the song which, although ostensibly another story song, seems as autobiographical as his recent Springsteen on Broadway outing. It's notably more reflective than the energetic songs he wrote while he was living those days: "Ever since I was a kid/tryin' to keep my temper down is like chasin' wild horses…left my home, left my friends/I didn't say goodbye."
Sundown is like a vision of what life would have been like for the protagonist of Tuscon Train without his love joining him. You can hear the regret as Springsteen sings "Sundown ain't the kind of place you want to be on your own/it's all long, hot, endless days and cold nights all alone/I drift from bar to bar, here in lonely town/Just wishing you were here with me, come sundown." The most vocally reaching part of the record is soon to follow as he rises up with the swelling swings.
Somewhere North of Nashville is another vocal departure. Springsteen sounds more like Dylan with a country twang. Again, there's rueful regret for the loss of love that was traded for an ephemeral shot at the life he thought he needed more: "I lie awake in the middle of the night/making a list of things that I didn't do right/with you at the top of a long page filled…I traded you for this song."
Stones is one of the longest songs on the album but it's power comes in repetition of his disillusioned lover's refrain: "those are only the lies you've told me."
There Goes My Miracle is quite a musical departure form the Springsteen you know, as he croons a plaintive song of heartbreak over strings.
Hello Sunshine is a pedal steel infused shuffle about avoiding the dubious charms of blues and solitude: "You know I always liked that empty road/No place to be and miles to go/but miles to go is miles away/Hello sunshine, won't you stay?"
Moonlight Motel is quite an ending for the record. The first verse is full of promise and romance: "'round here two young folks could probably up and disappear into rustlin' sheets, a sleepy corner room." However, the fragile delivery of the vocal and the dilapidation of the motel's pool foreshadows that the dream of carefree young love is gone too: "it's bills and kids and kids and bills and the ringing of the bell." We find out that he's now lonely, and as he discovered that the motel is boarded up, he reminisces wistfully: "I woke to something you said/that it's better to have loved, yeah it's better to have loved."
Western Stars is an ode to an American way of life that's passing but still accessible through exploration, music, and memory. It addresses the passage of time head on, and underscores the importance of living and loving for as long as possible.
How about picking up Blinded By The Light: Original Motion Picture Soundtrack to accompany Western Stars? It features Springsteen greatest hits and unreleased tracks, including the long-awaited studio version of I'll Stand By You.
Another stand out track is the debut live performance of The River back in 1979. Just imagine hearing that searing masterpiece for the first time!
It's the soundtrack to a coming-of-age film that was a hit at Sundance Film Festival, inspired by Sarfraz Manzoor's life and directed by Gurinder Chadha (Bend It Like Beckham). The soundtrack also features Chadha's father's favourite song and a British Bhangra anthem. "Growing up, Sarfraz and I could never have imagined a universe where all these songs would be on one soundtrack reflecting our lives."