UPDATE: Due to the ongoing impact of Coronavirus (COVID-19), C2C Festival 2020 in London, Dublin and Glasgow is being postponed. Hold on to your tickets. The C2C organisers have said that "more information will be announced in the coming days on the rescheduled event. Thank you all for your understanding and patience at this very difficult time."
Back in October we announced the C2C festival headliners – Eric Church, Darius Rucker and Luke Combs – plus an array of other main stage performers like Charles Esten, Brett Young and Tanya Tucker.
We're now thrilled to reveal the artist for the Festival Stages. This is where Country To Country in London really stands out from other festivals as it gives UK country acts and up-and-coming international artists the opportunity to showcase to thousands of country fans. Importantly, it also helps draw new fans into the country fold as three stages are entirely free to all visitors to the O2.
We spy C2C veterans and Music Closeup favourites like Clara Bond, Izzie Walsh, Laura Oakes, Katy Hurt and Twinnie and major label artists such as The Shires, Una Healy and Catherine McGrath, so we can already tell it's going to be a vintage year.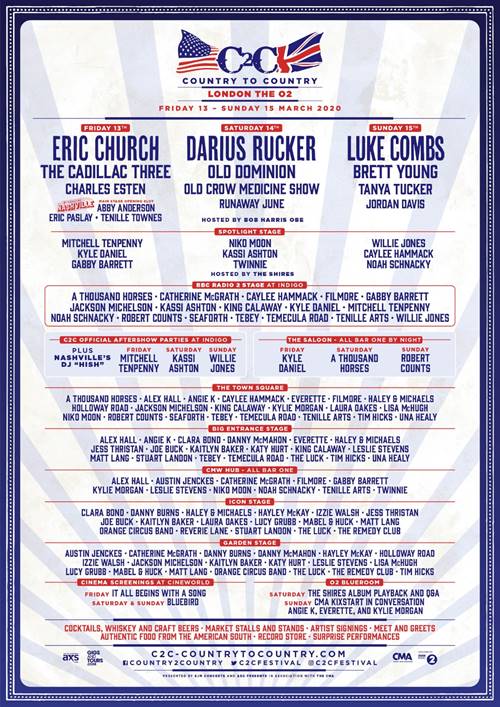 Part of the joy of C2C is discovering new bands too. So, without further ado, here is the full list of festival stage performers:
A Thousand Horses
Alex Hall
Angie K
Austin Jenckes
Catherine McGrath
Caylee Hammack
Clara Bond
Danny Burns
Danny McMahon
Everette
Filmore
Gabby Barrett
Haley Michaels
Hayley McKay
Holloway Road
Izzie Walsh
Jackson Michelson
Jess Thristan
Joe Buck
Kaitlyn Baker
Kassi Ashton
Katy Hurt
King Calaway
Kyle Daniel
Kylie Morgan
Laura Oakes
Leslie Stevens
Lisa McHugh
Lucy Grubb
Mabel & Huck
Matt Lang
Mitchell Tenpenny
Niko Moon
Noah Schnacky
Orange Circus Band
Reverie Lane
Robert Counts
Seaforth
Stuart Landon
Tebey
Temecula Road
Tenille Arts
The Luck
The Remedy Club
The Shires
Tim Hicks
Tony Arata
Twinnie
Una Healy
Willie Jones
Country To Country will kick off at midday on Friday, March 13, 2020, and 10:00 a.m. on the Saturday and Sunday at the O2 in London. As well as the music, there were be cocktails, whiskey, craft beers, artist signings, meet and greets and movie screenings.
To plan and make the most of your weekend, our best advice is to download the app. You can select your must-sees and get push notifications for special performances.
As well as the O2 London extravaganza, Country To Country festivals will take place in Glasgow, Belfast, Amsterdam and Berlin. Tickets are available now!