Against The Current 101
Alt-rock band Against The Current from Poughkepsie, New York, is made up of vocalist Chrissy Costanza, guitarist Dan Gow, and drummer Will Ferri.
They built a fanbase the old-fashioned way by touring with Good Charlotte, All Time Low, and Fall Out Boy, alongside performing on The Warped Tour.
They also embraced more modern discovery methods of YouTube covers and syncing in the gaming space. Their League of Legends collab Legends Never Die has been streamed 675 million times and counting!
Against The Current is back with a new video for 'silent stranger'
Now independent after several releases on Fueled by Ramen, the band is enjoying exploring both pop and alt-rock elements. Their latest single, silent stranger, examines the duality between nightmares and daydreams.
Costanza calls this the 'Nightmares era'. She said it's about the state where "lines can easily become blurred or swept away entirely. Embarking on a spiral of panic, what's real and what's forced can no longer be distinguished from one another; [it's] imposter syndrome pushed to the point of no return."
The music video for silent stranger emphasises this by showing Costanza singing into a mirror while the band performs wearing all-black in a black room. There's a dark fairytale aesthetic with just a hint of Dexter imagery and foreboading.
The lyrics are introspective – "Who are you with the lights out?/I don't feel right when I'm all alone" – but the sound is full on.
Shades of Paramore and The Faim spring to mind if we're talking contemporaries, but it's hard not to suspect that there are some Nine Inch Nails influences in there too.
Against The Current tour dates: Europe
Vindicating their independence, ATC is embarking on their biggest tour ever, playing to over 100,000 fans.
If any of these Against The Current tour dates suit you, don't sleep on getting your ticket because a lot of ATC's UK tour dates are already running low on tickets.
10 November 2023: Ancienne Belgique, Brussels, Belgium
11 November 2023: Melkweg, Amsterdam, Netherlands [LOW TICKETS]
12 November 2023: La Rayonne, Lyon, France
13 November 2023: Plaza Club, Zurich, Switzerland
15 November 2023: Simm City, Vienna, Austria
17 November 2023: Theaterfabrik, Munich, Germany
18 November 2023: Palladium, Cologne, Germany
20 November 2023: Lucerna Music Bar, Prague, Czechia
21 November 2023: Proxima, Warsaw, Poland
23 November 2023: Festsaal Kreuzberg, Berlin, Germany
24 November 2023: Markthalle, Hamburg, Germany [SOLD OUT]
25 November 2023: Zoom, Frankfurt, Germany
26 November 2023: Bataclan, Paris, France

Against The Current tour dates: UK
29 November 2023: Rock City, Nottingham, England
30 November 2023: O2 Ritz, Manchester, England [LOW TICKETS]
1 December 2023: O2 Forum Kentish Town, London, England [LOW TICKETS]
2 December 2023: O2 Institute, Birmingham, England [LOW TICKETS]
4 December 2023: TV Studio SWG3, Glasgow, Scotland
5 December 2023: Limelight, Belfast, Northern Ireland
6 December 2023: The Academy, Dublin, Ireland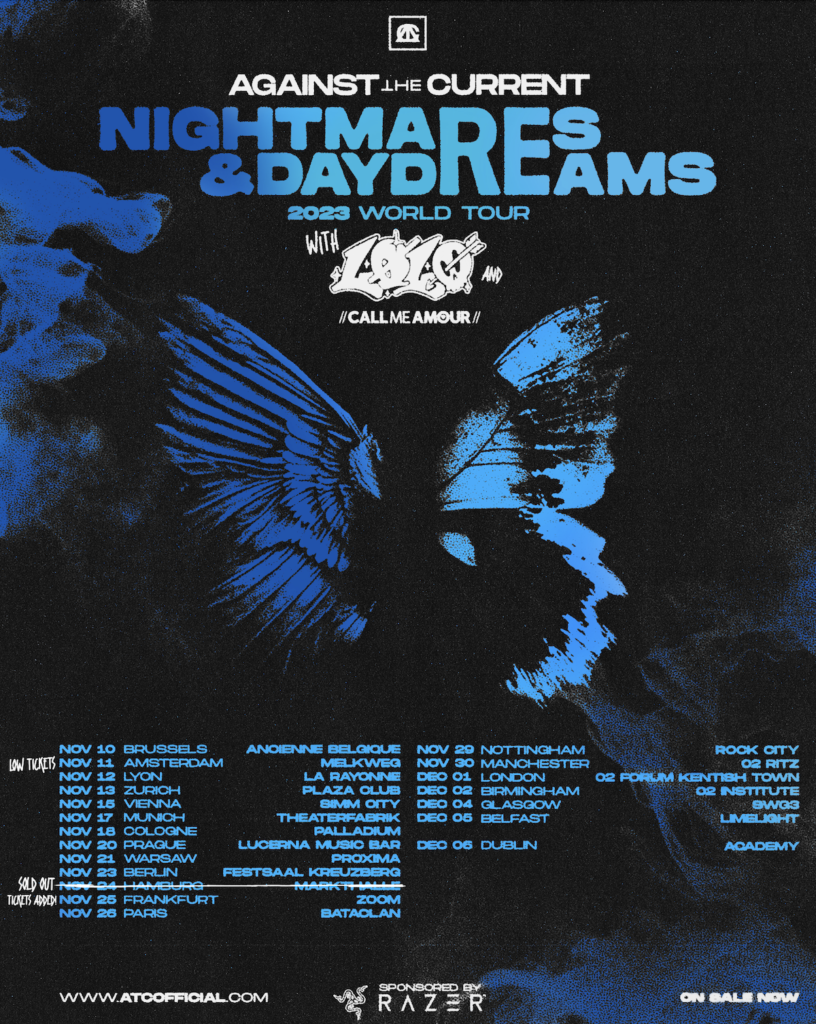 Check out musiccloseup.com for more music news and reviews.