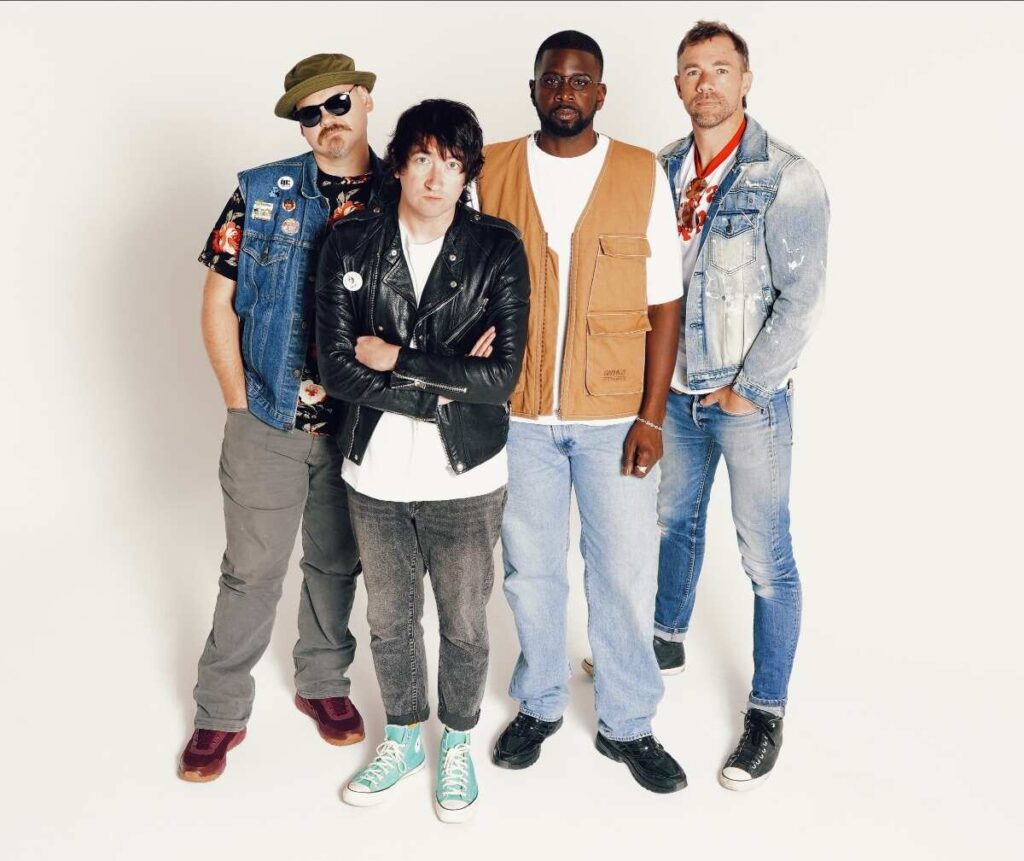 Read more

: Get Fired Up for Plain White T's new album!
Who are Plain White T's?
Pop-rock band Plain White T's formed in Chicago in 1997. If the name sounds familiar but you can't quite put your finger on it, these three words should help: Hey There Delilah. That song went quadruple platinum, went to number 1 on the Billboard Hot 100, and was nominated for two GRAMMY® awards in 2008.
They've had several other Platinum of Gold certifications and earned over 2.7 billion streams globally. They have also appeared on cultural touchstones like Sesame Street, 90210, Beavis & Butthead, iCarly, and Frankenweenie. Most recently, they were on the stellar line-up for When We Were Young Festival 2023.
Plain White T's are vocalist Tom Higgenson, lead guitarist and vocals Tim Lopez, bassist Mike Retondo, and drummer De'Mar Hamilton.
What does Plain White T's single Fired Up mean to them?
Higgenson waxed lyrical about the band's new single, Fired Up:
"Fired Up is such a party. Somehow, it's energetic and lazy, amped up and chill, all at the same time. I think it might be the best song on the album. It's all about looking around and seizing the day. A total feel-good song, but in an odd, quirky way. I don't think it's possible to listen to it without smiling."
What is Plain White T's new album like?
You can check out five other singles that have been released ahead of Plain White T's new album (self-titled) which is out on Fearless Records on November 17, 2023.
Higgenson explained their approach to Plain White T's new album: "We were trying to hark back to sounds we've used in the past with a freshness. This [album] came from a really authentic place of understanding who we are and what we do. I'm more excited than I've been in a long time. As musicians, we're always trying to outdo ourselves or go somewhere we haven't gone before. Somehow, we figured out how to go to a fresh spot and still sound like Plain White T's."
1. Spaghetti Tattoo is the new song that's most like Hey There Delilah in style and tempo, and comes with a sweet video. If you've ever wondered what it would be like if puppets went skinny-dipping, now's your chance to find out!
2. If you're looking for a stadium-ready singalong, Would You Even is here for you.
3. You Plus Me comes with delightfully lo-fi notebook lyric video.
Higgenson described it as "a song about finding that person who is just as weird and nerdy as I am. It's our flaws and our uniqueness that brings us together. There's kind of an 'us against the world' mentality in this song and I love that! We purposely left the recording very raw and stripped down to let that spontaneity and misfit charm shine through."
4. If you're feeling a little down, Happy is an understated song that suggests little ways to improve your mood. Bet you can't watch the video without smiling at least once!
5. Red Flags is chilled out in tone but unravels a sad story of a protagonist who is painfully realising that his lover doesn't love him back.
Higgenson explained the inspiration behind the song: "I was dating someone and it was going so well but in some instances, I was like, 'Wait does this girl really care? Is she giving me the signals that this is not working?' Sometimes you get so lost in love and all the good things you ignore the bad things and that's what Red Flags is. I'm daydreaming about her but there are all these red flags that I am ignoring."
Plain White T's tracklisting
Young Tonight
Would You Even
You Plus Me
Fired Up
A Little Less Alone
L-O-V-E
Someone's Out There Waiting
Girl From Pasadena
Happy
Red Flags
Love Keeps Growing
Feeling (More Like) Myself
Spaghetti Tattoo
Check out musiccloseup.com for more music news, reviews, and photography!