Multi-award winning Download Festival borders three counties: Nottinghamshire, Leicestershire, and Derbyshire. This central location, together with an expertly curated line-up over five stages, makes Download a must-do for metal fans. It may not be obvious from the outside, but the fan community and their deep commitment to the festival are incredible. This relationship extends to the bands too. For example, Iron Maiden will be playing their last ever UK show at this year's festival!
The line-up also features heavy-hitters like KISS, Korn, Deftones, Megadeth, Descendents, Sepultura, Frank Carter & The Rattlesnakes, and Biffy Clyro! Check out our guide to Download Festival 2022!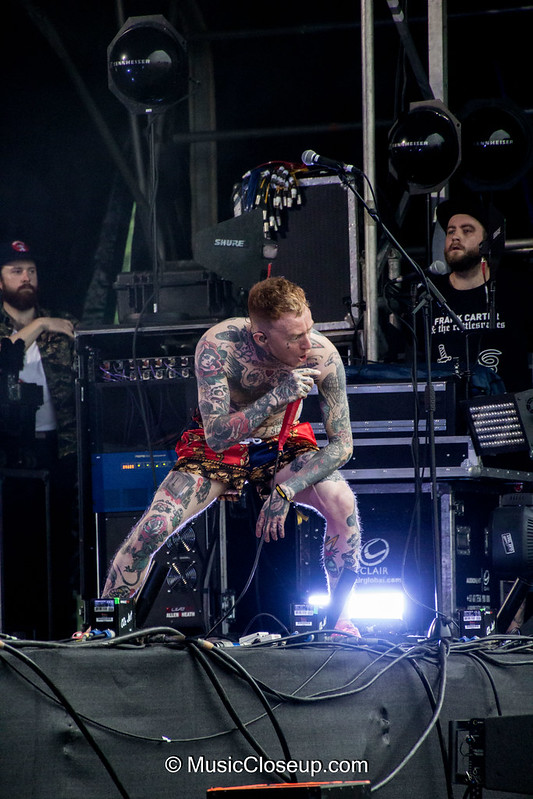 Location and transportation
Download Festival takes place in Donnington Park in the Midlands. It's near East Midlands airport and well served by public transport.
If you're driving, don't forget to buy a car park pass in advance because it will be more expensive on the day.
If you will be travelling by train, shuttle buses will operate from and to East Midlands Parkway station (£10 return) and Derby station (£12 return).
Download partners with Big Green Coach to offer services from/to the following locations: Aberdeen, Basildon, Basingstoke, Bath, Birkenhead, Birmingham, Blackburn, Blackpool, Bolton, Bournemouth, Bradford, Bridgend, Brighton, Bristol, Cambridge, Canterbury, Cardiff, Carlisle, Chelmsford, Crawley, Darlington, Dartford (Bluewater), Doncaster, Dundee, Dunfermline, Durham, Edinburgh, Exeter, Fareham, Gillingham, Glasgow, Gloucester, Hamilton, Hull, Ipswich, Leeds, Liverpool, London (Victoria Coach Station), Luton, Manchester (City Centre), Middlesbrough, Milton Keynes, Newcastle-Upon-Tyne, Newport, Northampton, Norwich, Oxford, Peterborough, Plymouth, Poole, Portsmouth, Preston, Reading (Calcot), Scunthorpe, Sheffield, Southampton, Southend, Stockport, Sunderland, Swansea, Swindon, Taunton, Warrington, Wigan and Worcester.
Tickets
Children are welcome at the festival, although parents and guardians should exercise discretion because not all the acts will be suitable for kids. Child tickets are needed for kids aged 5-13, while kids under 5 go for free without needing a ticket. All children under 16 must be accompanied by an adult.
Download Festival offers an excellent choice of tickets, including standard, quiet, or eco camping over three or five nights. If you're not into camping, there are day tickets as well. A clever touch is that their VIP scheme is called RIP! There, you have the option of a dedicated camping site with proper toilets, hot showers, and entertainment. They also have partnerships with local hotels, a variety of pre-pitched tents (yurts, Bedouin tents, or tipis) and even Airstreams and tour buses! Download tickets are available online.
Logistics and accessibility
Download Festival operates a Challenge 21 policy, so it's a good idea to take ID.
Click here for accessibility information.
Download Festival 2022 Line-up
Here's the all-important line-up poster, and keep reading for alphabetical lists of bands by day.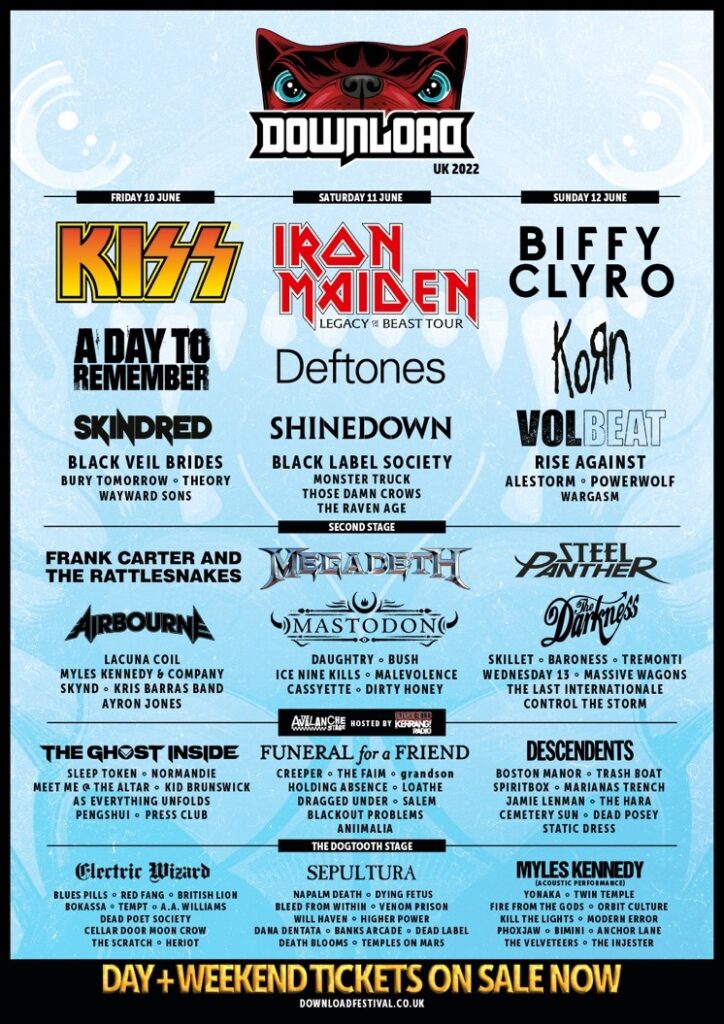 Friday 10 June
A DAY TO REMEMBER / A.A. WILLIAMS / AIRBOURNE / AS EVERYTHING UNFOLDS / AYRON JONES / BLACK VEIL BRIDES / BLUES PILLS / BOKASSA / BRITISH LION / BURY TOMORROW / CELLAR DOOR MOON CROW / DEAD POET SOCIETY / ELECTRIC WIZARD / FRANK CARTER AND THE RATTLESNAKES / HERIOT / KID BRUNSWICK / KISS / KRIS BARRAS BAND / LACUNA COIL / MEET ME @ THE ALTAR / MYLES KENNEDY & COMPANY / NORMANDIE / PENGSHIO / PRESS CLUB / RED FANG / SKINDRED / SKYND / SLEEP TOKEN / TEMPT / THE DISTILLERS / THE GHOST INSIDE / THE SCRATCH / THEORY / WAYWARD SONS
Saturday 11 June
ANIMALIA / BANKS ARCADE / BLACK LABEL SOCIETY / BLACKOUT PROBLEMS / BLEED FROM WITHIN / BUSH / CASSYETTE / CODE ORANGE / CREEPER / DANA DENTATA / DAUGHTRY / DEAD LABEL / DEATH BLOOMS / DEFTONES / DIRTY HONEY / DRAGGED UNDER / DYING FETUS / FUNERAL FOR A FRIEND / GRANDSON / HIGHER POWER / HOLDING ABSENCE / ICE NINE KILLS / IRON MAIDEN / LOATHE / MALEVOLENCE / MASTODON / MEGADETH / MONSTER TRUCK / NAPALM DEATH / SALEM / SEPULTURA / SHINEDOWN / TEMPLES ON MARS / THE FAIM / THE PRETTY RECKLESS / THE RAVEN AGE / THOSE DAMN CROWS / VENOM PRISON / WILL HAVEN
Sunday 12 June
ALESTORM / ANCHOR LANE / BARONESS / BIFFY CLYRO / BIMINI / BOSTON MANOR / CEMETERY SUN / CONTROL THE STORM / DEAD POSEY / DESCENDENTS / FIRE FROM THE GODS / JAMIE LENMAN / KILL THE LIGHTS / KORN / MARIANAS TRENCH / MASSIVE WAGONS / MODERN ERROR / MYLES KENNEDY (ACOUSTIC) / ORBIT CULTURE / PHOXJAW / POWERWOLF / RISE AGAINST / SKILLET / SPIRITBOX / STATIC DRESS / STEEL PANTHER / THE DARKNESS / THE HARA / THE INJESTER / THE LAST INTERNATIONALE / THE VELVETEERS / THICK / TRASH BOAT / TREMONTI / TWIN TEMPLE / VOLBEAT / WARGASM / WEDNESDAY 13 / YONAKA