Testing 1-2-3? No, forget soundcheck. The Professionals are ready.
They're recorded three new EPs to be released in January, February and March of 2020. Of particular interest is the limited edition coloured vinyl set with red, blue and yellow records. They look really, well, professional!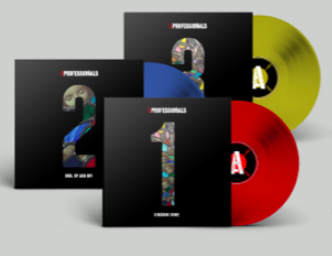 If the name sounds familiar to you, it's because the band come from punk anti-royalty. The band was formed in 1979 by Sex Pistols' guitarist Steve Jones and drummer Paul Cook. The new EP set is a nod to their second single, 1-2-3.
The band took a break…for 33 years…until they reunited in 2015 to celebrate the release of another 3 disc set, The Complete Professionals. In 2017, Cook brought the band back for good with a new line-up (and Jones' blessing).
Each EP will feature two new songs and two live songs. This is just the start; more recording sessions are booked to lay down more material for their next album.
They're also gearing up to head out on tour with Stiff Little Fingers in March.
Head to the band's webstore to pre-order the limited EP edition bundles and get your gig ticket.
Band photo by Anabel-Moller