Grammy-nominated multi-Platinum artist Cole Swindell and Lainey Wilson, BMG/BBR Music Group's fast-rising new artist, have teamed up for a hot new duet. The friends joined forces to explore the dynamics of on-again, off-again relationships. You know the kind, where each lover knows the other is no good for them but they can't stay away for long.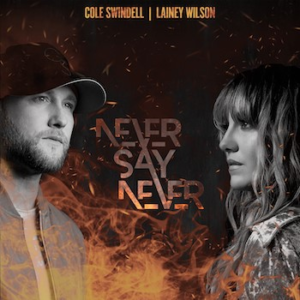 Swindell co-wrote Never Say Never with Jessi Alexander and Chase McGill back in 2018. He heaped praise on Wilson: " what she brings to this song is everything it needed. So glad it's finally out!"
It's safe to say that he's got an ear for a radio hit as he's had 10 number ones already! Whatsmore, he's on track for 4.5 billion career streams globally!
Wilson's had a taste of success too. She's been on the radar for UK country fans for years after celebrated performances during Country Music Week and C2C. They've finally caught on in America too. Her smash hit, Things A Man Oughta Know, reached number 1 on the Mediabase and Billboard Country radio charts in September 2021. In fact, she was the first solo female artist to achieve this since April 2020. Think about that for a second. It really speaks to the power of the song and the performance that Wilson was able to overcome such seemingly systemic issues within U.S. country radio.
She explained "Things a Man Oughta Know was such an incredible ride [so] I can't wait to get this next song out into the world and see where it leads. It makes the journey that much more special that I get to share it with a friend this time around!"
Never Say Never by Cole Swindell and Lainey Wilson is available to stream or buy now.
Check out musiccloseup.com for more music news and reviews.