30 November, 2019
Alexandra Palace, London
Emily Barker wrote an op-ed in The Guardian about what she learned from touring clubs and student unions with Frank Turner over a decade ago. This involved blowing a whistle and shouting "shut the fuck up" to shame noisy rock fans into paying attention.
Whether it's different crowds now, the same fans grown up, or a mix of both, she commands respect now.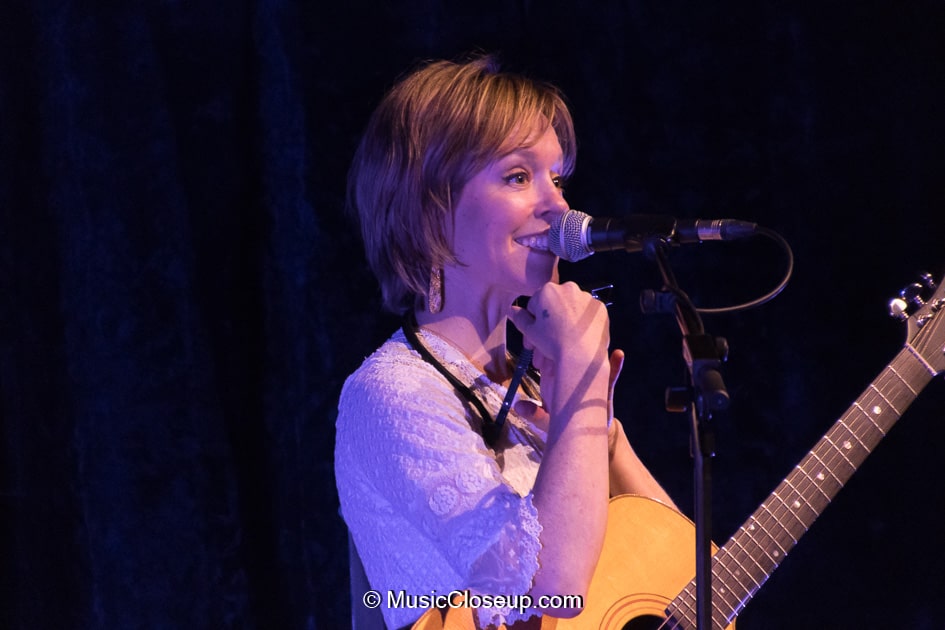 A combination of an extra ten years of honed stagecraft, arresting vocals, and soaring songs well-suited to the acoustics of the all-seated venue all played in her favour.
It couldn't hurt that she had a song about and a song by Sister Rosetta Tharpe in her set. That made it a perfect thematic fit with the No Man's Land concept of Turner's tour for he also had a Sister Rosetta song on his record.
"Chasing the big Christmas song bucks with a song about mass graves and sex work"
For those that didn't get the memo (well, tweets), this tour was going to be a little different. Especially for those who had followed Frank Turner from his days in hardcore bands, and even for those who'd caught him at full band shows with The Sleeping Souls, which was a good proportion of his previous 2,432 gigs.
Turner was under no illusion that those used to rocking out might be perplexed, and perhaps even feel cheated, to see him taking a seat with an acoustic guitar. He knew that his first task was to "get you to calm the fuck down about the fact that you're sitting down and I'm sitting down."
The format would first see him playing the thoughtful historical story songs from his latest record, No Man's Land. Then The Sleeping Souls would appear "for a deep dive into the old shit."
As the album title hints at, it contains exclusively songs about women. Sitting under a spotlight it was clear that his main desire in making and touring this  record was to shine a light on women who were forgotten, didn't get the credit they deserved, or who had been mistreated; often all three.
That's how we ended up with 'the Christmas song' Jinny Bingham's Ghost about a prostitute who was "technically employed by the church," because, well, that's just how things rolled in Medieval London. Although the church was happy to profit from the women's sexual labour, they weren't considered fit for burial in consecrated ground.
This lack of spiritual protection had temporal consequences. The graveyard was disturbed when land was needed to extend the Underground. Now it's a memorial to them. Despite the heavy topic, Turner was clearly up for injecting humour into the proceedings: "brothels, theatres and prisons, sounds like a complete night out!"
Although notable in her day as the daughter of a Rothschild (purportedly named after a moth that her father discovered), Pannonica's role in supporting Harlem's jazz greats is no longer widely known. Even in her own time, she died a lonely death, having left her husband and children upon being so moved by hearing a jazz tune for the first time. All her beloved musicians predeceased her.
Turner was clear about his own limitations given that there were jazz elements in the song "and that's not my wheelhouse." With a friendly crowd and determination he needn't have worried even though the stripped down format left no place to hide. The spotlight shone on every relieved grin and surreptitious affirmation for hitting particular musical marks
The historian in Turner shine through with The Hymn of Kassiani, "a co-write across 1400 years." Kassia was deemed to have disgraced the Emperor of Constantinople and herself so much with a witty joke (that he didn't understand) that instead of being chosen for marriage, she was cloistered in a convent for the rest of her life. Turner had specific facts to share, including that hers is one of only two known extant women's signatures prior to the industrial era (Joan of Arc's being the other.)
He was also ready to problematise the historical record, pointing out that the idea that she hid from the Emperor when he came to visit because she was still in love with him "sounds like the guy's story." Again with the humour; he imagined that the courtier's reaction to the tale of unrequited, irreligious passion was "OK, lads on tour!" For a single instrument rendition, Turner achieved a remarkably full song.
Still, he was unsure of his guitar skill, noting in particular that he wasn't great at solos and one was coming up. He urged the crowd to cheer him, both for moral support to encourage superhuman dexterity…and so they couldn't hear the solo so well! They obliged, oohing and ahhing as if it were one of Ally Pally's famous firework displays.
Having toured with Emily Barker and being familiar with her music, he knew the crowd had already been introduced to the life and works of Sister Rosetta Tharpe. He had more to add, as well as recapping "for those who weren't paying attention earlier on."
He explained that the pentecostal holy roller turned rock 'n' roller had a million selling single and was the first musician of any race or gender to headline a stadium concert. He also mentioned her comeback in the '60s leading to an unlikely but fabulous performance on an abandoned railway platform in Greater Manchester (which we just had to showcase here because everyone needs to see it!).
Turner addressed head on the main criticism of his desire to, as a man, release an album about women: "I am obviously aware…that I am a white guy who plays rock n roll."
He gave an impassioned speech about being duty bound to use his position of privilege to acknowledge and pay respect to such a pioneer of his genre. He even spoke about his determination to advocate for her to be included in the Rock 'n' Roll Hall of Fame in Cleveland. However, before he got a chance to literally nail a petition to the door, Martin Luther style, she was inducted without his help.
Bringing this portion of the night to an ends, he spoke of Huda Sha'arawi
and how she tore off her face veil publicly in 1923, prompting social change and the end of the harem system into which she had been born. Given the context, its clear he took some liberties when paraphrasing her reaction as "enough of this shit, I'm not wearing that fucking thing any more."
It was rather sweet that he orchestrated a cantorum counterpoint singalong, as he had throughout the world tour, so that as many fans as possible were prepared to sing along unprompted when Huda's granddaughter fulfills her promise to see him perform the song live!
Set 2: The Sleeping Souls
A short break later and Turner came back with The Sleeping Souls. For seasoned veterans of their live show, it was almost disconcerting to see them seated rather than leaping around the stage and off the amps.
Instead, they sat under lamps that were a cross between film set and an IKEA showroom. Much respect to the lighting team for the display.
Reflecting on a solo career spanning over two decades, Turner signaled that this show would be different involving just as much storytelling as singing by speaking the words to The Ballad of Me and My Friends. There was no more fitting song to start this type of night than one that ends with "we're definitely going to hell/but we'll have all the best stories to tell."
It soon became clear that there was a very deliberate, broadly chronological narrative emerging. Some of the stories were familiar but overall the approach was illuminating and entertaining for casual and hardened fans alike.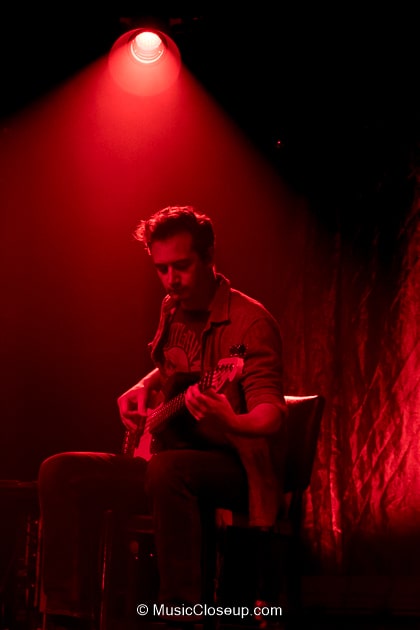 We learned about how he moved to London 45 minutes after his last A-Level exam. He spent his time walking about Tottenham Reservoirs hoping to meet girls, but instead mainly passed other boys likewise "wandering about a desolate part of the city in a meaningful way" with a strategically placed tome.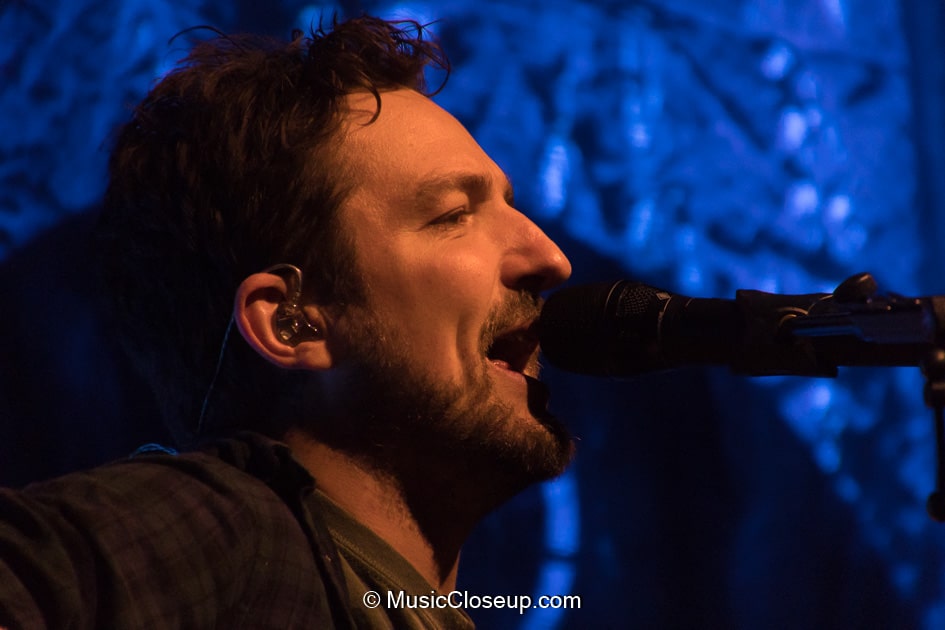 He explained how an attempt at a love song, Isabel, turned into a sing about how "modern technology is going to lead us to civil collapse in our lifetimes."
We heard all about bad decisions and broken hearts and learning from mistakes, eventually and painfully. The stripped down setup really allowed for a focus on the lyrics (though we *still* heard "Italian mistakes and successes" in Redemption!)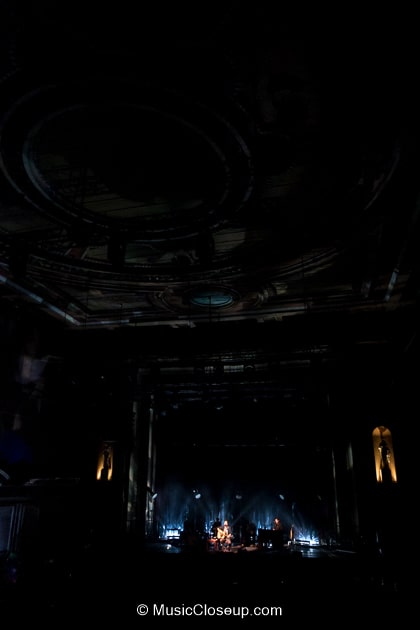 Despite being a full band show, this was very much about Frank's experiences. The only major interaction was a tantalising offer to play a doom version of Reasons Not To Be An Idiot. Instead they stuck to the plan of a rendition that was more country shuffle than the original, with hints of reggae.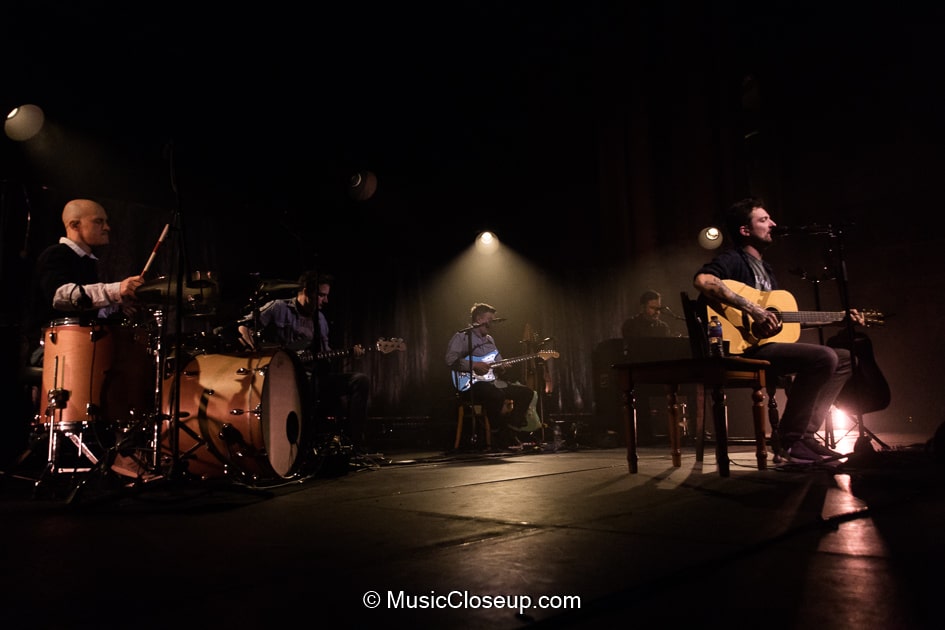 Well, that and a brief role reversal moment when Frank got to see the special chair that you can get if you're a pianist…and promptly plummeted towards the floor as he tried to adjust the height!
It was particularly interesting to hear Turner talk about Amy, a name that's almost as ubiquitous in his song as Maria is in Counting Crows' back catalogue. "She haunted my songs in much the same way she haunted my life," he admitted, though eventually she became a cypher for other ideas. After an album and a world tour, he wrote her an apology song which was jaunty in this iteration; The Way I Tend To Be.
There was particular reverence, rightly so, for I Am Disappeared, the second of the Amy trilogy of the night. It had a different arrangement but still resonated with so many in the room.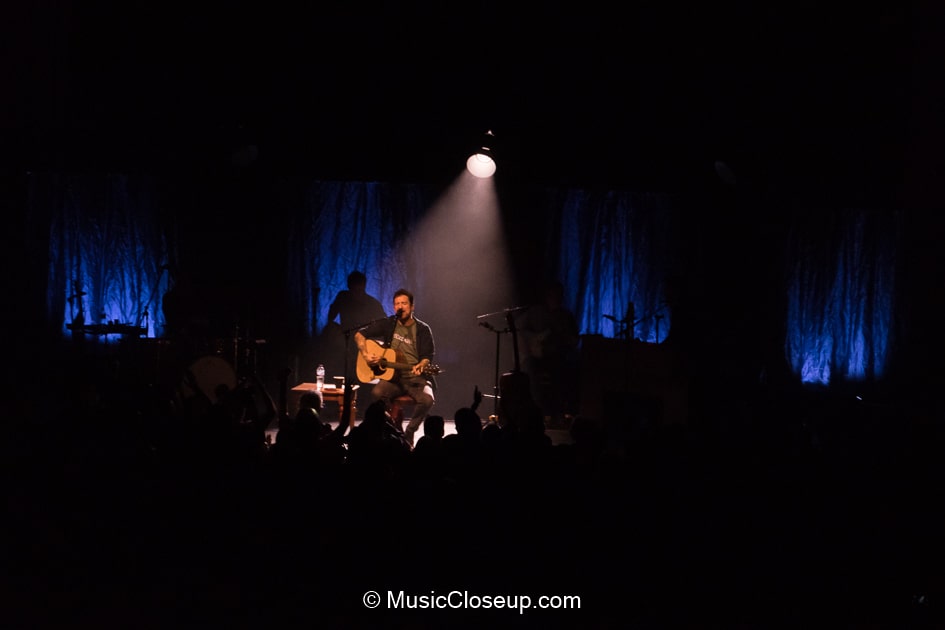 Turner touched on thoughts of death at time revealing more of his past struggles than he may have planned. He admitted that his songs were sometimes reminders to himself that it was worth carrying on.
The sombre mood was broken by a question "did someone just shout 'yay, death?!'" Perhaps it was the same person who reacted wildly to a song about tennis; it turned out he was called Dennis and had misheard!
Just three months after his wedding, Turner was keen to wax lyrical about finally having found happiness. He described the moment he knew it was for real and being determined to write her a song before she woke, as "weapons grade Leonard Cohen romantic shit." He had to compromise at writing it before she came back from breakfast as she had, quite understandably, refused to lie there pretending to sleep while he finished an unspecified task.
He joked, in a black humour sort of way, about the "hurry to get the album out [in 2016] because I was worried that things were going to calm down!"
The format was largely about how songwriting and personal development intersect but it was credit to Turner and the band for recognising the cathartic nature of a typical Sleeping Souls show in the encore.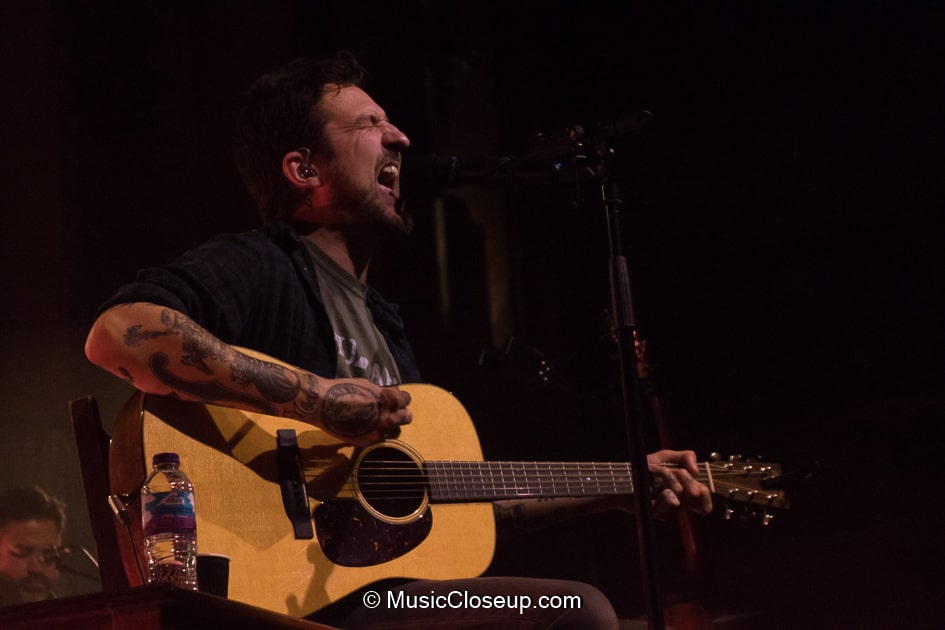 A typical show sees tour veterans crouching down so they can spring up en masse for the refrain "I won't sit down." In this instance at a seated venue, simply saying it's a song about not sitting down was enough to propel the crowd to their feet as one. The pure joy and collective volume that ensued showed what live music is all about.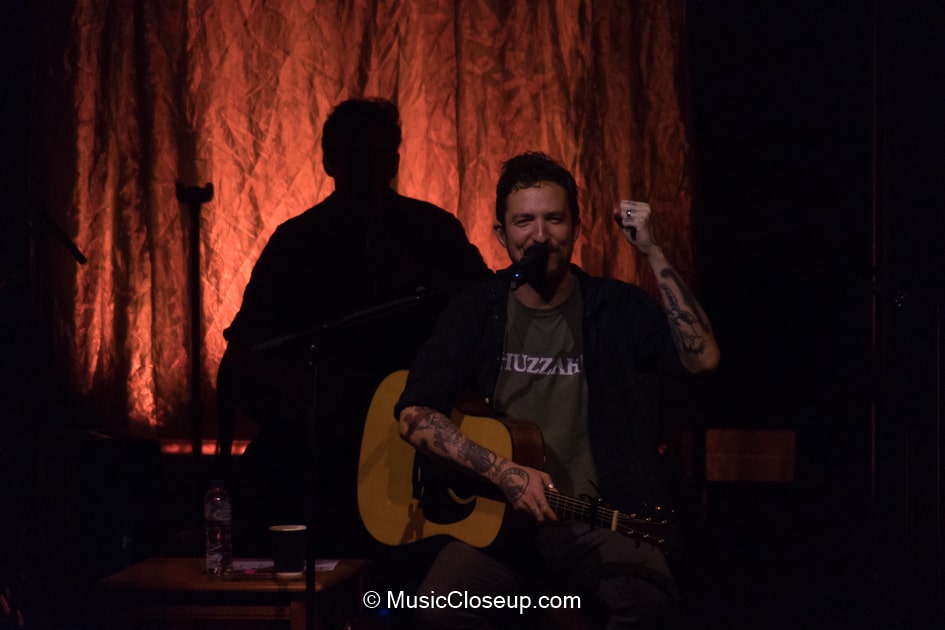 To top off this night of self-reflection, Turner played what he saw as his most abiding message, Be More Kind. There was spontaneous applause for the sentiment before thunderous applause as a special show came to a close.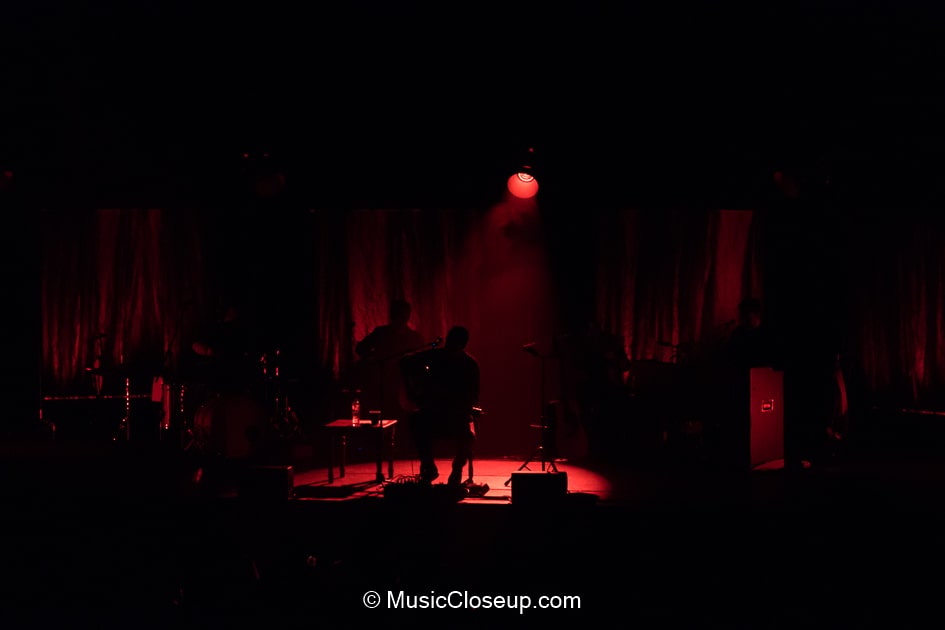 Frank Turner is on tour in the UK in March with Mica Schnabel and Jess Guise, before heading out on an epic world tour. Head to his website for dates and details.