After two incredible evenings of entertainment with Nile Rodgers/TLC/Soul II Soul and The Strokes/Fontaines D.C./Wet Leg, award-winning musician Thomas Collison topped off the week by seeing Natalie Imbruglia and Alison Moyet at Lytham Festival. Here's the verdict!
Natalie Imbruglia at Lytham Festival: "Look at this turnout, look at this day. I could easily move here!"
A songwriting partner and I once agreed that the peak of our careers would be getting a co-writing credit on a Natalie Imbruglia album. While that hasn't happened (yet), I'm truly excited to be back in Lytham to see the Antipodean pop-goddess perform.
Through the vagaries of fate, not everyone was necessarily there to see Imbruglia. Just hours before, the night's headliner Tears For Fears announced that they had to pull out due to injury. The festival organisers acted swiftly to offer refunds and allow ticketholders to still attend if they wished, as well as offering free tickets to Lancashire locals who arrived at the box office in time. Consequently, it was hard to judge the mood of the crowd or their familiarity with the special guests.
Imbruglia acknowledged the situation immediately: "we're in this together. We've also got bloody Alison Moyet!!"
Hardcore and casual Imbruglia fans alike were well-served by a gigantic opener, Wrong Impression, which reached number 10 in 2002. The strong melody, singalong hook, and Imbruglia's relentless performance was enough to pique the interest of casual music fans as they enjoyed Carlsbergs on yet another glorious summer's day in Lytham.
Fast forward a few decades and we were treated to Nothing Missing from Imbruglia's 2021 album Firebird. The song co-written with fellow singer-songwriter juggernaut KT Tunstall, had a big rock riff and a meaty EDM synth.
Of course, Imbruglia is most popularly known for her work in the '90s. First as Beth Brennan in Neighbours and then bursting onto the chart scene with mega-hit Torn. While many claim that Torn is the greatest pop song of the '90s, I'd say that it's not even the best in Imbruglia's catalogue. That honour goes to Shiver. That slice of pop perfection turned up third and I could have gone home happy already. In fact, I could hear this song all night on a loop and still be equally delighted. Imbruglia continued dancing around the stage with total confidence. She owned the seafront.
"Can you believe it's been 25 years since my first album, Left Of The Middle? It's a long time, can anyone relate?"
Yes, yes we can, judging from the cheers (and a few surprised sighs) from the audience. Imbruglia broke into Wishing I Was There from the ubiquitous '90s album. Stylistically, it hit like a tremendous missing track from Alanis Morrisette's Jagged Little Pill album.
This set was going all too quickly but wasting no time, we were treated to the lynchpin of Left Of The Middle, as well as so many of our memories of the decade. Torn. It's f—ing brilliant. No other superlatives will do!
Staying with Left Of The Middle, we were treated to Big Mistake. Sometimes the '90s seem so recent but, then again, I remembering having this on cassette single back in 1998! Such a wave of nostalgia. Interestingly, it makes use of the kind of trip-hop beats made popular by Bristolian acts like Massive Attack and Portishead during the same era.
Nonetheless, the song was still vital today as it reverberated through the seaside sky. Man, when the chorus dropped, it truly ROCKED. The short guitar solo sounded like something from Talk Talk, before going total Voodoo Chile at the climax. All the while, Imbruglia had never stopped moving and looked as if she's having the time of her life as she skipped across the stage while belting: "When you're down on your knees, what a big mistake, don't come crawling."
Imbruglia rounded out her set with Build It Better, another track from Firebird. It's a total banger, which proves that she's very much still a contemporary artist, not living in the past. There's no doubt that she has enough hits and deep cuts to easily fill out a headline set of her own, but the practicalities of the day – she was only supposed to be third on the bill until a few hours before – meant that we had to be content with a short but very sweet set.
Alison Moyet at Lytham Festival: "OK then, put your '80s disco shoes on!"
I heard the bulk of Alison Moyet's set while packing down my keyboard rig at Bath Festival in 2018. I didn't get to see her, but I HEARD her. And, my goodness, I've never heard a more powerful live performance vocal before or since.
Growing up in a music-loving household with frequent and plentiful access to All Cried Out and That Old Devil Called Love on 45s and, later, a well-played copy of Yazoo's Upstairs At Eric's, my anticipation was stratospheric. Like with Imbruglia before, the disappointment of missing Tears For Fears was softened by the sheer brilliance of the 'support acts.'
I Germinate started the show, from Other released in 2017. It swirled with heavy beats and sparse electronics. It sounded akin to the best of David Bowie's latter-day output. This was a strong selection to subtly yet powerfully show from the start that Moyet is far from a nostalgia act.
Any fears that Moyet couldn't ease the pain of missing Tears For Fears – other than for those being commiserated by strangers as they'd travelled from as far afield as Edinburgh and Argentina to see the duo from Bath – were quickly dispelled. Anything that her stellar set couldn't salve was bandaged up by her endearing, hilarious stage banter.
After warmly congratulating Imbruglia – "As Natalie said, we're all in this together. We'll just have a bit of a do…can you believe that she's ill and sang like that??" – we found out that we were going to have a cracking time with Moyet as she grinned and cracked jokes throughout. When she came to celebrating the 40th birthday of a particular release, she mused "I must have still been in utero!"
She was straight with us from the get-go. She and the band didn't have a full headline set planned because "we had the Covids and all our rehearsals got cancelled." Nonetheless, they'd practised a few extras in the dressing room because "that was how it was in 1977 and we just did what we could do" if adversity struck. With a glint in her eye, Moyet explained that they would share the extra songs on one condition: "if I'm completely out of tune, don't let it show in your eyes!"
As Nobody's Diary from Yazoo's second album, You and Me Both (1983), someone who looked like she was born in about 1983 exclaimed "I recognise it but I don't recognise it." She was largely alone with that, if the huge cheer was anything to go by! Moyet was simply beaming and her enjoyment mirrored our own. She grinned and marched in time to the luscious icy synth instrumentals.
Moyet was supported by a band of two; multi-instrumentalist Sean McGee on keys, guitars, bass and vocals, and Paul Jones on drums, who was only recently back from having "all the flipping Covids".
Do You Ever Wonder? showcased Moyet's phenomenal vocal skills in one of the best Bond themes that never was.
Next up, we were treated to electroshock glam rock with Beautiful Gun. Industrial noises layered over hypnotic beats. The mesmeric effect was not a million miles away from Nine Inch Nails or Moyet's Basildon pals Depeche Mode's mid-career period. 
All Cried Out, the breakout hit from her first solo album, Alf, sounded terrific, but it wasn't to Moyet's liking. As soon as it ended, she declared that she was going to sing it again later. That wasn't a crowd-pleasing ploy to fill time. Moyet had countless radio staples from 1987's Raindancing that remained conspicuously absent and could have done that job admirably. No, we were going to be treated (in the most literal sense of the word) to All Cried Out again because "I was thinking about something and I just forgot to sing the line. It's not on!"
Unrehearsed with a big disclaimer that things may be out of key or somewhat wonky and that "it's a real git to sing…wish me well, I'll see you at the end!" Moyet nevertheless nailed Changeling from 2013's The Minutes. Again, hard industrial beats and synth bass pulsated through this slice of EDM noir. With a broad smile, she exclaimed "all good intentions! Yes, all good intentions!"
The vibrato on another unrehearsed selection, Wishing You Were Here, really showed that out of all the post-punk and new-wave artists that came out of the early '80s inspired by the art-rock of Roxy Music and Berlin-era Bowie, Alison Moyet – vocally and melodically – is the truest torchbearer of 'The Thin White Duke.'
The tear-jerking melodrama of This House – a strikingly harrowing minor key essay of heartbreak and loneliness – somehow sounded epically luscious and inclusive when performed to tens of thousands of people on the seafront.
Time for another song from's "Alf's" solo album Alf. Love Resurrection gave us the surprising sight of a fan crowd surfing to Alison Moyet at Lytham Festival, together with collective arms swaying high.
A collection of analogue beeps brought the arena into a gasp of recognition of what was coming next. It was Yazoo's debut single, Only You. It reached number 2 on release and an acapella cover by The Flying Pickets went one better two years later. With its electro-pop elements and baroque arrangement, it somehow sounded like it was simultaneous from 40 and 400 years ago. This song is in our collective DNA as showcased by it providing the biggest singalong of the night.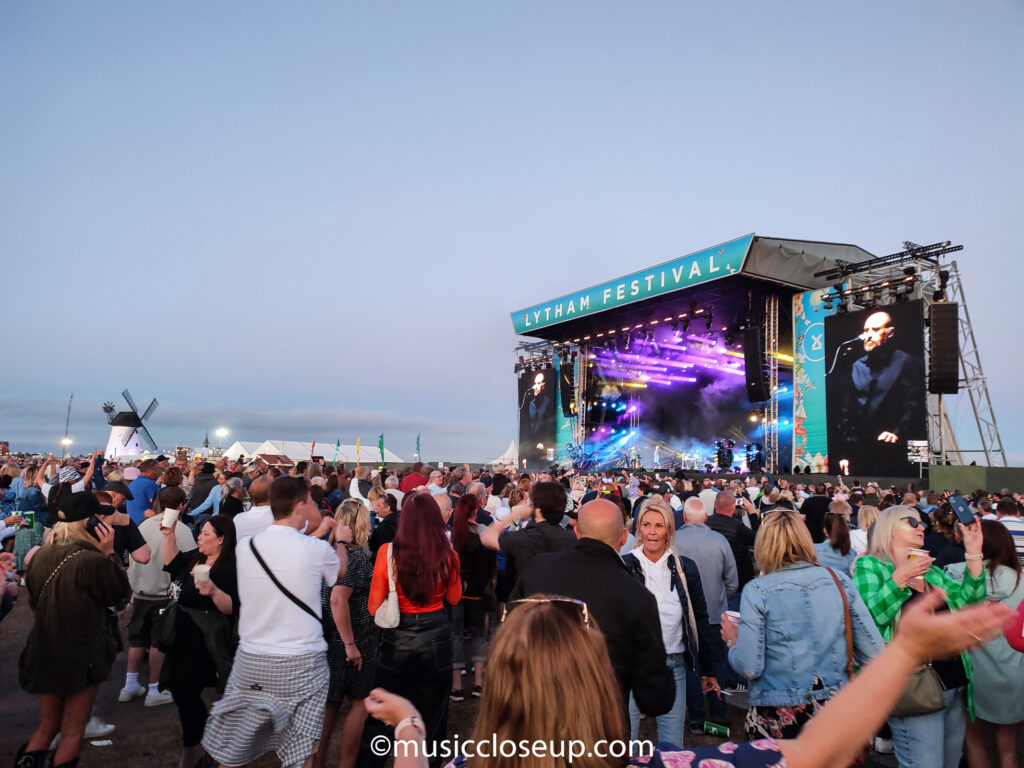 After gliding through Situation and My Best Day (which Moyet co-wrote with Ian Broudie for The Lightning Seeds' 1994 album Jollification), our best day was quickly coming to an end.
The penultimate track was the promised repeat of All Cried Out because "you are so brilliant, you deserve all the verses and all the choruses." No one was complaining about getting this brilliant break-up ballad twice.
Finally, it was time for those disco shoes and a massive roar as the band cued up Don't Go. The fans complied and danced the night away with joyful abandon. With that, sadly, we had to go. But we went having had a triumphant night with Natalie Imbruglia and Alison Moyet at Lytham Festival, despite the initial disappointment of missing Tears For Fears. Thousands of people, who had come from near and far, left Lytham Green hoping to catch Tears For Fears down the road soon, and completely determined to see Moyet and Imbruglia again whenever possible too.
Check out musiccloseup.com for more music news, reviews, and photography.