January 27, 2021
Virtually everywhere
After a near flawless night of virtual entertainment from Day 1 of the inaugural AMA-UK Americana showcase event, we're back for Day 2 with more reviews and reactions.
DeLila Black kicked things off by singing about love and disappointment in a stripped back but energised set.
Music Closeup favourite Megan O'Neill was next, tugging at the heartstrings with songs like Ireland.
"This is stunning Megan, Gorgeous!" – Joey Clarkson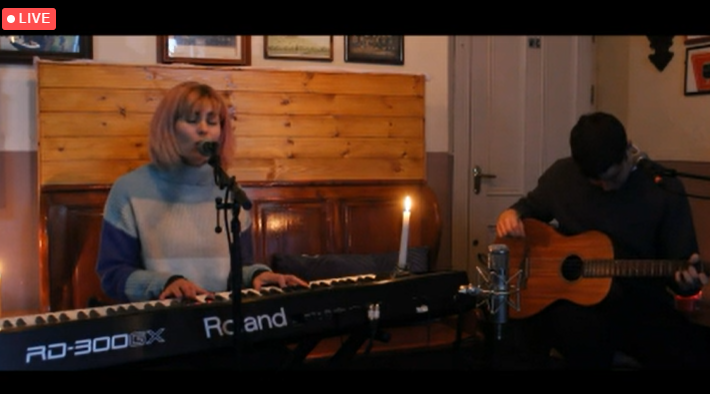 Misty River sang with high register precision, backed by CJ Hillman on pedal steel.
"Beautiful songs. Great lyrics and lovely flowing melodies. Top musicianship all of you!" – Liam Jordan
James Riley roamed around Hackney Marshes in an amusing set of videos filmed by AMA-UK Instrumentalist of The Year bassist Thomas Collison, backed by AMA-UK Instrumentalist of The Year CJ Hillman. That's right, going virtual has finally allowed the in demand 'Pedal Steel Guy' to clash with himself after many a close call!
"The whole world should be listening to this! We all need it! Certainly making me feel better!" – Pearly Queen
True Strays rocked the house with a rock 'n' roll meets bluegrass meets honky tonk hoedown.
"These guys are great!!" – CJ Hillman (Pedal Steel Guy)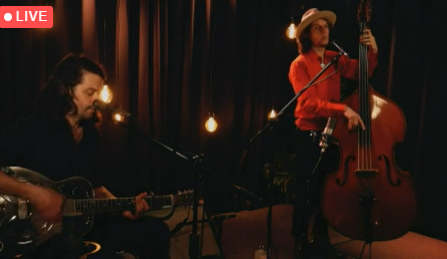 Joshua Burnside enchanted the Stage 2 crowd with sweet, traditional sounds.
"J's a special talent. So glad to see him involved." – Ralph Maclean
Judy Blank's energy sparkled at the last live AmericanaFest but she was equally impressive with this sensitive stripped down set, especially the Aaron Lee Tasjan cover.
"Yes! Saw you at Basement East. You left the place a smoldering ruin. Killed it!" – Marc Engel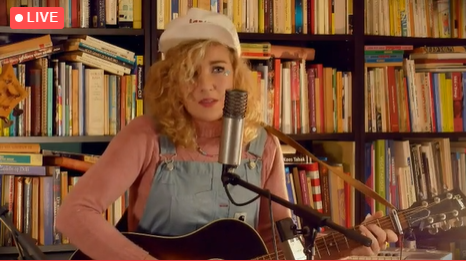 Meanwhile, scene favourite Peter Bruntnell addressed his disciples.
"Hello Pete, so happi to hear you after SO long…" – Lesley Follington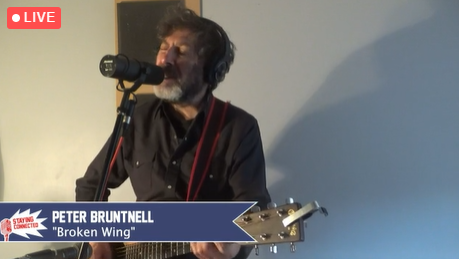 The Hanging Stars continued the introspective tone.
"So cool love the lighting! This is amazing way to work and watch some great bands" – Sherry Dibble
Meawhile, Declan O'Rourke offered a message of hope amidst the seemingly unrelenting bleakness of lockdown. Bathed in sunlight, he serenaded us all.
"Declan O'Rourke is coming from a special tradition. Proud of him." – Ralph Maclean
"Oh gosh, this is beautiful. Like something from a classic Hollywood musical" – Laura Cooney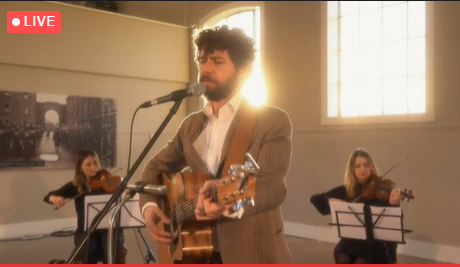 The Wandering Hearts talked about the dream experience of recording in the Catskills in New York state, staying up late in the music room jamming and then recording the next day. They also reminisced about playing with Marty Stuart. As for the set? Gorgeous blended harmonies for days.
"I'm so excited to hear this set, and I CANNOT wait to hear the album when it is finally available!!! The anticipation of it has been a lot of what kept me going so far." – Roz Bingham
"This news stuff is sooooooo good guys! big congrats! 🙌" – Baylen Leonard
Stage 2 was given over to a celebration of North Carolina and its diverse music scene. Rissi Palmer gave a stunning performance of Barley written by Birds of Chicago.
What I heard in the lyrics and what I feel from the song, I think about my ancestors…it doesn't make me sad, it fills me with a lot of pride. You have people who have been continuously beaten down, take from their home, taken from their language, taken from their names…still somehow they got up every morning, they celebrated, they fell in love and I'm here….there's nothing that this world, this country, anybody, anything in this world that comes this way that I can't endure, that I can't overcome."
"Stunning" – Jen Webster
Lakota John sang about Mother Earth and unity. Any ticket holders who experienced technical gremlins during this set can catch up for the next two weeks.
Jim Lauderdale paid tribute to Jimmie Rodgers by playing My Carolina Sunshine.
"No school like the old school and Jim's the headmaster!" – Ralph McLean
American Aquarium were next with a driving beat and a widescreen sound.
"agh! I'm tearin up a little . so great to see AA. looking forward to their October dates 🤞" – Sean Duggan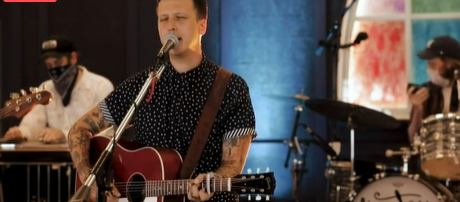 Basically The Hamiltones blew everyone away with a gospel vibe (and an actual audience!!)
"The beauty of this genre 'Americana'. This fits into another half a dozen categories. Love it." – Ken Beveridge
Jim Vipperman showed us the verdant North Carolina countryside and his fiddle skill. He talked about sharing talent and love of this music that it survives.
"loving the diversity of music in the NC lineup…." – Shawna Cooper
"Great bit of old time fiddling there" – Ron Dukelow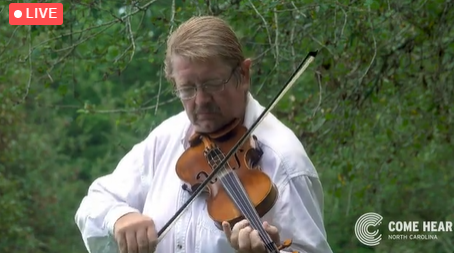 Next up, delicate rural relaxing sounds from Mipso.
"Mipso forever baby" – Ethan Proctor
Chatham County Line were heavy hitters for the 'Come Hear NC' pitch.
"CCL sooo good 💙" – Kelvin Sawkill
Arnold Richardson talked about his ancestral lands and how music fits into that heritage as courtship songs.
"love this – beautiful, kinda haunting and mesmerising!" – Danni Nicholls
Larkin Poe took us to church on Stage 1with a spirited performance of Holy Ghost…and every other song they played. Fire!
"I'm having funny moments!!" – Elles Bailey
"Probably the most exciting players I've encountered in the last five years" – Thomas Collison
The Good Lovelies gave us a soft lullaby of a set interspersed wuth upbeat three part harmonies.
"Oh bugger! … Everton have scored 😓 at any other time I'd be incandescent …. but how can I be listening to This? Utterly enthralling 💙" – Kelvin Sawkill
The Yep Roc showcase opened with Grant Lee Phillips' assured set bringing back memories.
"Grant Lee Buffalo played a big part in my musical story. Love hearing his voice, brings back lovely memories, teardrops even ; )" – Noel Cornford
"The fact that there is a Gilmore Girls conversation during a music conference, makes it entirely worthwhile. What a set, such a star!" – Millie Millgate
Michaela Anne performed delicate, beautiful songs to a rapt virtual audience.
"I would say that [If I Wanted Your Opinion] was a fantastic song, but Michaela hasn't specifically asked for my review" – Rosie Jones
"This is a wonderful new discovery. Loving this. 8am here in Australia and a wonderful way to start a day." Glenny G
The War and Treaty put their hearts and souls into their set in their living room so we can only imagine what they're live live!

"I need more! Could honestly just watch you guys play all night! What an incredible set. 🤩" – Demi Marriner
'Mayor of Americana' Chuck Prophet thanked UK grassroots music bookers then performed a mesmerising set; an engaging, entertaining masterclass.
"Chuck Prophet, legend…" – Mark Kelly
Meanwhile, Logan Ledger crooned to new converts.
"Ahhh, here's the amazing artist who lured me to this UK show from the U.S.!" – Carol Roth
Dustbowl Revival blew the cobwebs away with an epic Spaghetti Western soundscape.
"So good and so many styles/genres in one song. totally vibing" – Liam Jordan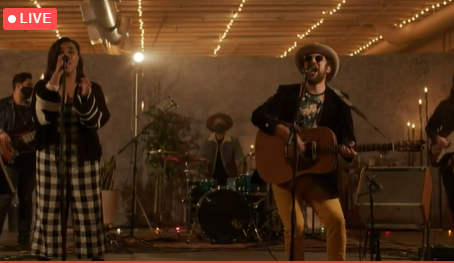 Karen Jonas made a stylish entrance then laid down a twangy bluesy set.
"oh yes, deffo catching this show live when we are allowed! fire." – Brendan McCarthy
We suspected that the secret set might be The Secret Sisters since they had to pull out at the last minute last year. Worth the wait!
"sooooo beautiful! gotta love these sisters 😃" – Judy Blank
The Southern Avenue set was relentless. Can't help but think they'd bring the house down at Oslo.
"Just downloaded everything I could find. Whoa." – Jen H-F
Sarah Potenza wowed with a hugely powerful voice and dry wit: "I am known as the Beyonce of Americana here in the States," she joked. Later, she talked about her Grandma getting her high school equivalency qualification in her 80s, and discovering Mary Gauthier's kind of music later in life.
"we only had Aerosmith and Vanilla Ice when I was a kid, we didn't have my bucket's got a hole in it…I heard it once and I thought 'why?'"
"Holy shiiit!!" – Northern Cowboy films
Kyshona and friends were next to power through a special Wild Ponies Happy Hour set. Wow! Another incredible set of pipes, delivering protest songs with spiritual vibes.
"haha Kyshona yep !keep the faith sister im so glad youre doing this it sounds sooooooooooo good" Siobhan Kennedy
Then it was time for hosts Wild Ponies to showcase their own evocative old-timey Americana.
"How do your knees move like that Doug??" – Kyshona Armstrong
Jaimee Harris gave an incredible performance of thought-provoking songs.
"Your songs freakin floor me." – Danni Nicholls
Multi award-winner Troy Cassar-Daley opened up the Sounds Australia Guest Showcase with a slick, high quality set,
"Great song Troy, so soulful!" – Andrew Farriss
Fanny Lumsden was having a great week, having just won five Golden Guitar awards, even before joining us for this performance.
"We LOVE Fanny!" – Saije
"I can only find 10 of my Golden Guitars… Fanny, did you take one of mine?" – Beccy Cole
You know how Zoom has fed our curiosity by letting us see what other people's homes are like? Well, AMA-UK's virtual showcase let us see what's on Fenn Wilson's washing line! He wielded a deep, commanding voice.
"oo lovely rich voice" – Daisy Chute
Next up, pure class from Beccy Cole
"Beccy you badass. Always amazing x" – Charlie Collins
Saije were part of a pilot program called Global Music Match. What a find! They offered soothing sounds, multiple capos and some stunning backyard vistas from Bellingen, New South Wales (half way between Sydney and Brisvegas).
"Immediate shivers" – Daisy Chute
Next up? Oh, just Andrew Farriss from INXS. Dude!! He gave us a lovely, uplifting, upbeat tune. His new album, due out March 19, is available for pre-order.
"This song captures the spirit of AmericanaFEST UK Andrew, just perfect." – Millie Millgate
Tracy McNeil had a distinct KT Tunstall vibe but with double the guitar fun.
"This is SUCH a great song." – Justin Rudge
Charlie Collins gave us a gentle, close duet and vicarious thrills from a look around a chic retro store.
"Nice song in the perfect setting" – Rod Smith
The 2021 showcase event was closed by a featured artist from the 2020 conference. Dan Sultan delivered a heartrending countryfied lament that went down well.
"holy shit dan this is perfection" – Charlie Collins
You can still buy a ticket for the three day event or log in if you already have a ticket but couldn't make it live. There's a John Prine Tribute Show and awards ceremony on January 28, 2021, and you can catch up on any sets you missed until February 12, too.