January 26, 2021
Virtually everywhere
As the official event photographer, we're used to watching every AMA-UK showcase set. Every. Single. One. COVID pushed the 2021 showcases online but we decided to keep that tradition alive nonetheless. Not having to walk 12 miles over two nights and climb the stairs at Oslo countless times to do it is an unexpected benefit, even if screenshots aren't a patch on professional photos!
The digital version of the event had another major plus point – we got to see everyone's lovely comments as they discovered new favourites in real-time. So, we decided to combine our review with a selection of reactions.
Daisy Chute opened with a perfect sentiment given that AMA-UK has created something epic for us to look forward to and enjoy during a tough time: Give Thanks. The virtual crowd was grateful for her dulcet tones on Throne (a cut from her forthcoming album), and a live set favourite London's on Fire.
What a way to start us off! Stunning, Daisy!" – Lizzy Hardingham
Eddy Smith and The 507 trio harmonised their way through songs like Middle of Nowhere from their upcoming release.
"Killing it guys ! Cant wait for the album !!" – Kristen Nielson
Meanwhile, Sam Coe was rocking out on Stage 2 before dropping the pace with an powerful ballad. The quality of the performance from Epic Studios in Norwich set an early high bar.
"This is a fine set from Sam Coe" – Mike Ritchie
Josh O'Keefe was a folky traditionalist with particularly apt lyrics for our times: "build a wall and your empire's bound to fall."
"Josh, I love you!" – Marcia MacLeod
The Marriage played gorgeous tunes from their record Imagining Sunsets. Harmonies for days!
"This is extremely beautiful" – Dave Giles
Dan Bettridge was up next with effortless vocals and soft guitar.
"Love Dan's voice" – Miles Myerscough-Harris
Lauren Housley impressed with an assured performance.
"Your voice is like caramel!! Christ!! This is so beautiful. Those harmonies… Ahh lads. You're killing me!" – Megan O'Neill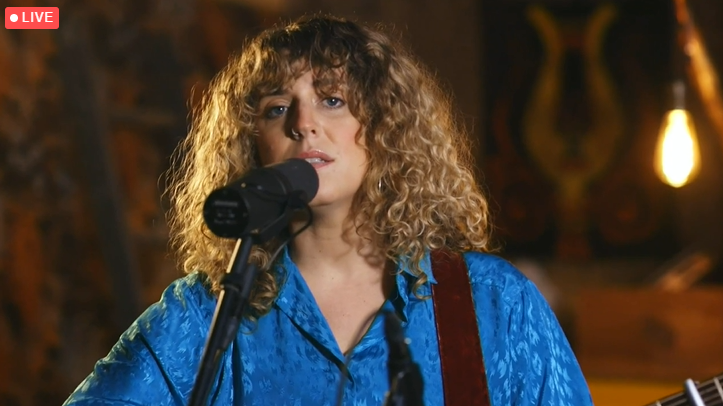 Hannah White and Kieron played songs like The Darkness and Pay Me A Compliment. She explained that the album recording was only the second time that she had played the songs through with the Norwegian band The Nordic Connections.
"Sounding great, Hannah" – Marina Blore
Our Man In The Field's set was supremely chilled with Alexander Ellis' correct pronunciation, subtle double bass back up, and Henry Senior on dobro and pedal steel for songs from the album The Company of Strangers and standalone single Great White Hope.

"This is total vibes. I love it" – Baylen Leonard
"I wish you were here and you wish I was her" is a sample lyric from Ruthie Collins' opening song, setting up an evocative set. Hypocrite could legit by a hit for Miley Cyrus if you ask us.
"Ruthie sounds great! And also the hair is a vibe!!!!" – Two Ways Home
Laurence Maxwell opened up the Music PEI Guest Showcase with a forthright traditional country song followed by A Bouquet of Flowers, lockdown ballad.
"Old school sounds and old school facial hair what more do you want?" – Dean Maywood
The Prince Edward Island contingent continued with another country set from Cory Gallant. He couldn't be online to see the support rolling in because he's a first responder in Canada.
"Perfect soundtrack to my beer drinking. love it." – Brendan McCarthy
PEI's Haunted Hearts came next with a jangly retro vibe.
"Man, you have tons of talent on that little island." – Trish Richardson
Gordie MacKeenman & His Rhythm Boys offered fun with instruments as the fiddle took centre stage.
"Woo so much energy!" – Jo Hart
The Thirty Tigers showcase on Stage 1 started out STRONG with Jason Isbell and the 400 Unit playing the aptly titled Overseas.
AMA-UK award winners and 2021 award nominees Emily Barker and Robert Vincent caught up for a chat about the importance of music during these uncertain times. Then Barker and Lukas Drinkwater performed Strange Weather, an ode to an unborn child destined for a confusing world.
"Emily is in the form of her life I think – what an album…" – Richard Leader
Barker and Vincent then interviewed Charley Crockett before his performance.
"Such a phenomenal performer. I like how he's always staring straight into the camera. It feels like he is singing for YOU." – Dietmar Leibecke
Diana DeMuth was the next to be interviewed and play. She talked about recording with Simon Felice.
"This voice is so powerful. wow!" – Dave Giles
Robert Vincent impressed 'the room' with a string laden serenade.
"Wow, amazing voice! It's amazing to see how different Robert is when performing" – Tamanna Kabir
Tre Burt was exhausted at the incredible early time of ::checks notes:: 10:00am…but we'll give him a pass on that because he's been working hard on new music. Through the course of the interview it transpired that he's basically lived everywhere in the world, and drawn inspiration from those experiences.
"Epic!" – James Cameron
Lucero's performance came just days before the release of their new album, made at Sam Phillips Recording Service.
"Oh man, half the fun of Lucero is their glorious facial hair!" – Mark Engleson
"Playing Coffin Nails in a covid mask is a bit creepy!" – Ros Fennelly
Ida Mae explained about getting creative to record during the pandemic: "we cut that live, whispering in the living room."
"I was taken somewhere else when I first heard Ida Mae at Fest 2020" – Dennis Muirhead
Brent Cobb talked to Barker and Vincent about writing Keep Them On They Toes as a type of letter to his newborn son, as well as about his Southern Rock influences.
"Currently melting into my chair" – Judy Blank
"It's so weird looking into the camera, by the way! This is the first time I've done this." Roseanne Reid powered through the strange situation that COVID's put us in and produced a delightfully delicate set that won her new fans.
"I missed Roseanne last year running around Hackney like a loon trying to catch everyone, thank god the distance between stages this year is shorter!" – Dean Maywood
Legend Lucinda Williams wowed with a cover of Bob Dylan's Queen Jane Approximately.
"Approximately Queen Lucinda" – Liam Jordan
Darlingside chatted with Emily Barker about the freewriting process in general, and writing about climate change in particular. Then they gave a mesmerising performance.
"Wow. This is stunning." – Demi Marriner
John Smith's chocolatey voice rang out with Friend, ruminating how things turned out for a former love.
"Cool John Martyn 'May you never' feel here….really good ✌🏻" – Danny George Wilson
Emily Barker tested The Mavericks' knowledge of British cuisine. Two of them correctly identified 'sausage twerkies' as the fake food. Even though they won, we got the prize. Requirdos was written the morning it was recorded, just after a show at The Ryman. It comes from a forthcoming all-Spanish release with a prospective UK tour later in 2021.
"Oh his voice… and in Spanish. Sigh" – Rachel Griffin
Meanwhile, on Stage 2: Church of Roswell. Their close duets were compelling and their sense of humour shone through in the between song banter.
"Rocketeer is the sweetest song I've heard in a long time 😃" – Lisa-Marie Ferla.
Charlie Starr from Blackberry Smoke chatted with Rob Vincent and Emily Barker about recording live and looking forward to future live shows. He introduced Hey Delilah as "a funky Bible story."
"This feels very Neville Brothers funky" – Helen Jerome
The Thirty Tigers showcase ended with Barker and Vincent trying to catch artists out with smutty real vs. fake town and street names for them to choose between.
Katie Pruitt's sweetness was a perfect palate cleanser after Barker's hilarious potty mouth. One of the highlights of the night, hands down.
"TAKE ALL MY MONEY" – Dave Giles
"Her vocal control is outstanding" – Miles Myerscough-Harris
No rest for the wicked as we slid straight into The Northern Belle's sweet, pedal steel bathed set.
"This is glorious!" – Kelly Hingley
Meanwhile on Stage 2, a second Canadian showcase was in full swing, this time sponsored by Music Export Canada. One of the highlights of AMA-UK 2020 kicked things off, Terra Lightfoot.
"Terra's the best!" – Trish Carter
Who could possibly follow Terra Lightfoot? Oh, it turned out AHI could. Super easy, barely an inconvenience with a stunning voice like that!
We were then treated to soft and lovely sounds from Carmanah.

"very cooooool 😌" – Kristen Neilson
Julian Taylor's vocal was super smooth with a sweet backing vocalist to match.
"These wonderful harmonies give me memories of some L.Cohen harmonies!" – Tamanna Kabir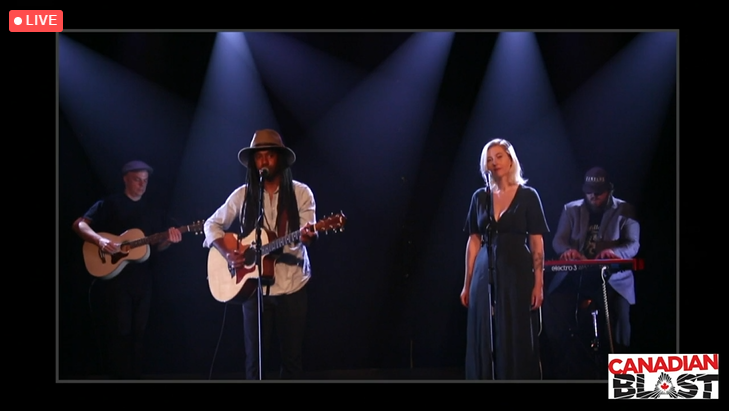 Next up, Les Hay Babies harmonised in French.
"This is very cool!" – Ethan Proctor
The East Pointers had an impressive array of pedals and samples to go with their traditional instruments.
"This makes me think of so many Cambridge Folk Festivals in past years. Lovely folk. [sigh]" – Helen Jerome
Emma Swift stepped up to the virtual main stage, with Robyn Hitchcock on guitar. They played songs from her acclaimed Dylan covers record, Blonde On The Tracks.
"Sublime" – Pearly Queen
Massy Ferguson brought some sunshine to the final set of Stage 1, day 1. They played songs from their album, Great Divides.
"This would be so good in a late night venue right now" – Noel Cornford
Israel Nash kicked off the Loose showcase by playing Down in The County from his hill country home studio in Texas.
"Israel – truly brilliant!" – James Duffy
Then we were treated to deep, dark flights of fancy from The Handsome Family, as per usual with them.
"Stripped back Brett and Rennie, oh yes!" – Kelvin Sawkill
As Loose impressario Tom Bridgewater so eloquently put it, Gill Landry had an album out "just about when all this shitshow started." Still, lockdown did give us the opportunity to see that lush Californian backdrop. It looks like he lives on the Ponderosa!
"Probably in my top 3 gigs of last year. What a voice and storyteller!" – Kendall Wilson
Treetop Flyers' set was recorded at the beloved Betsey Trotwood in Farringdon, and ended with a huge grin at a bum note.
"Aaaah our lovely Treetop boys X" – Gill Tee
Native Harrow performed beautifully in a beautiful room in Pennsylvania.
"oooh yes I am getting Emmylou vibes I love it" – Brendan McCarthy
Ethereal lushness from Joana Serrat as standard. Always a treat.
"Unbelievable vocals" – Oliver Oneill
Jim White sat by his childhood piano for his upbeat set. Pro tip: don't look at what's on his keyboard or they will follow you to your nightmares.
"Jim gives me Jackson Browne vibes" – Dean Maywood
It had to be back to the Betsey for Danny George Wilson playing his classics Old Soul and Henry The Van, didn't it? Superb performance.
"oh yes. voice like a country road home." – Brendan McCarthy
"So lovely that Michael Macdonald lent you his jumper Dan, lovely touch." – Del Day
And finally, Grammy nominee Courtney Marie Andrews for a wonderful pair of songs from sunny New Mexico.
"Sounds so great! Love love love CMA!" – Doug Williams
Now all that's left is to get some sleep before rewatching a few performances ahead of round two tomorrow night!
You can still buy a ticket for the three day event – January 27 sees another evening of top quality showcase performances and there's a John Prine Tribute Show and awards ceremony on January 28. Once you have a ticket you can catch up with any sets you missed until February 12, too.