October 28, 2019 – Islington Assembly Hall, London
As an award-winning multi-instrumentalist and producer, it may surprise you to know that Thomas Collison doesn't like much music! A band has to be special to entice him. This is why you should take notice when he describes Madrugada as 'the best band you've never heard of.'
A fan for most of the group's 20-year history, here is Collison's informed and impassioned review of his first-ever Madrugada concert.
A crisp autumnal evening welcomed Madrugada back to London for their first UK show in 13 years. The 800 capacity Islington Assembly Hall sold out three months in advance. It was a substantial venue upgrade compared to their 2006 show at Dingwalls in Camden. However, for scale, this alt-rock band routinely play multiple sold-out nights in arenas in Norway and across Europe.
History
Formed in 1993 on a remote island town off the north coast of Norway with a population of under 4,000, Abbey's Adoption consisted of Sivert Høyem (vocals), Frode Jacobson (bass) and Jon Lauvland Pettersen (drums). The trio relocated to Oslo in 1995, changed their name, and finalised their line-up with guitarist Robert Burås.
The band released four highly acclaimed studio albums and a live record between 1999 and 2005. Each topped the Norwegian charts and reached the Top Ten elsewhere in Europe. They also won five Spellemannprisen awards (Norwegian Grammys).
After Pettersen's amicable departure in 2002, Burås sadly passed away during the recording of their fifth album in 2007. Høyem and Jacobsen completed the self-titled record in Burås' memory with the help of mutual friends and associates. After releasing the record in January 2008, Madrugada completed a farewell tour before disbanding.
Return
Fans were surprised and delighted to discover that the band were going back on tour, especially when it was announced that founding member Pettersen would be re-joining the lineup after 18 years!
Following an initial pair of concerts in February 2019 to over 17,000 fans in Oslo, the band embarked on a 60 date tour to mark the twentieth anniversary of their debut album, Industrial Silence.
There was a sense of electricity in the air as the lucky fans who got tickets to the only UK date on the tour waited for Madrugada's triumphant return, passing the time by swapping stories of previous concerts and favourite tracks.
The concert started with the album opener Vocal. As the band launched a salvo of dark grooves, Sivert Høyem emerged from the darkness brandishing a tambourine like a weapon. He unleashed his rich baritone, reminiscent of Messrs Cohen, Vedder and Cave.
Intimately familiar with the nuance of every song, he directed his bandmates with almost imperceptible looks. Meanwhile, he echoed their dynamic with movement and gesture.
Scandi-Noir
Imagine the house band in Twin Peaks' Roadhouse bar playing a mashup of Pink Floyd's Breathe with Chris Isaak's Wicked Game and you'll get the overall sonic aesthetic. They create brooding music to soundtrack desolate places. It's essentially 'Scandi Noir' before that concept had a name.
The main set was designed to celebrate the twentieth anniversary of the band's seminal Industrial Silence record by performing it in its entirety. Nonetheless, it was intriguing and exciting to see how they resequenced the tracklisting to create a dynamic, undulating live experience.
The band rocked hard as they traversed through the dark lyrical environments of Belladona, Higher and Sirens. Only then, Høyem – a man of few words – finally addressed the audience. Until then, guitarist Cato 'Salsa' Thomassen added colour to the performance and made a clear statement with his expressive playing. He's a stalwart of Høyem's solo band and Madrugada, having joined in 2008 to fill the sizeable void left by tragedy. The 'new boy' ably did justice to Burås' legacy while also carving out his own place in the band.
Another veteran of Sivert Høyem's solo band, Christer Knutsen, expertly multitasked between organ, harmonica, electric and lap steel guitars – sometimes on the same song! His involvement in the reformed group added the subtle complexity and depth found in the studio recordings.
'Alt-country' songs such as Shine and This Old House gave a sense that, in a parallel world, Madrugada would be darlings of the contemporary Americana scene. However, that would be missing the point because Madrugada doesn't require labels. Instead, they simply make damn fine music and transcend genre.
Industrial light and magic
Simultaneously foregrounding the swirling music and adding to the sense of spectacle, Høyem highlighted the band's signature song, Strange Colour Blue, by swapping his acoustic guitar with a torch. Listening in darkness only punctuated by the sweeping searchlight really allowed for a focus on the lyrics, which were interpolated with passages of Bruce Springsteen's State Trooper.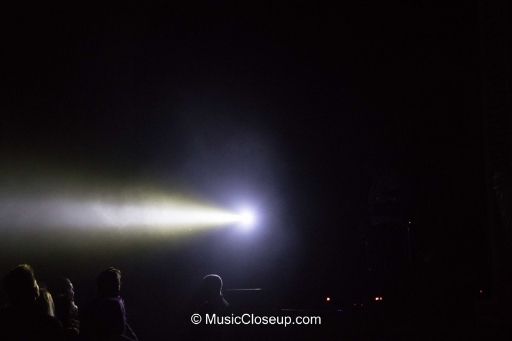 At any other theatre show, that would have been the most memorable visual moment. However, with half a lifetime's experience of performance, Høyem had something even more impressive up his sleeve for Norwegian Hammer Works Corp. As if mirroring the venue's disco ball, Høyem donned a silver sequined jacket. With white light targeted on his torso, he seemed on the brink of supernova as he emitted shards of light.
His stream of conscious lyrics, channelling R.E.M.'s more introspective songs from Out of Time, were paired with heavy Slint-esque riffs. In time to the dramatic music, Høyem tore off his jacket and dropped to his knees. He repeated the mantra 'with the hands of love' while smashing the mic stand to the floor, then contorted his 6-foot frame into a ball. We witnessed a masterclass in showmanship.
With these simple but effective touches, alongside a dynamic light and graphics show, Madrugada and their crew expertly brought the spectacle of an arena show to a smaller stage. Admittedly, twenty years on, seated tickets are becoming more desirable than disappointing. These visuals made it an equal pleasure to watch seated in the balcony compared to the immediacy of standing in the circle below.
Quite emotional
After breakout single Beautyproof, Høyem swiftly crouched before cracking a smile and sheepishly explaining "sorry, I just had to retrieve my wedding ring." It had gone flying during his intense performance! Finding the ring was "fitting, because this next song is about getting things back with the ones you love." Quite Emotional started a trio of ballads, albeit unconventional love songs with a 2:00 a.m. vibe. Terraplane was a meditative spiritual, highlighted by Høyem vocally channelling Nina Simone. He sat on the drum riser during Knutsen's jazz piano solo, which was underpinned by Thomassen's Link Wray reverb accents.
The 6/8 time ballad Electric, which closed the Industrial Silence set, was deemed representative of the record. Høyem set the scene about recording in an industrial space overlooking Oslo at night created the concept and guiding principle of 'industrial silence.' "We thought it was such a miracle – we turned off the lights and played our first decent song to the night," he explained.
Encore: "the ritual of walking off stage and getting back on again"
The encore was a chance to showcase deep cuts and fan favourites from the band's other records. Black Mambo was the first track from Madrugada's darker sophomore release, The Nightly Disease. Jacobsen's bass guitar struck up the voodoo riff then the band gradually joined in on this slow builder. The intensity grew with each cycle, layered up with hypnotic drums, slide and scraped guitar. Also, devilishly unsettling falsetto harmonies and Tubular Bell from Knutsen. This swampy blues meditation was evocative of Dr. John and Let Love In era Bad Seeds to match the disturbing lyrics: "Don't let them catch you out here on the streets because you've got no soul."
Hands Up – I Love You was replete with pulsating bass and drum groove, backed by sparse guitar and organ accompaniment. This was the band's first #1 single in Norway in March 2001. Our Scandinavian neighbours were clearly streets ahead in the cool stakes. At that time, UK record buyers sent Shaggy's It Wasn't Me to number one, ending Atomic Kitten's reign of terror!
Dedicated fans
Next up was What's On Your Mind?, a sumptuous gothic noir tale of losing love. It sounds like you've always known it from the soundtrack of a David Lynch movie. They didn't officially release or tour the record in the UK, it was remarkable that the audience sang in unison.
With stage lights down, Knutsen's Hammond organ swelled into Majesty from 2002's Grit. It was only released in the UK in a drastically altered compilation of tracks from the first three records. Another slow-burning ballad of regret and love lost, it started out like the studio version then seamlessly morphed into the epic reading from 2005's Live at Tralfamdore. The emotive interplay of organ and guitar solos, while the mirrorball radiated golden light, was a spine-tingling experience.
The encore continued with The Kids Are On High Street, the lead single from 2004's The Deep End, which propelled the band to further critical and commercial acclaim in Europe. Fitting, as this rousing live staple is an anthem of will and determination to leave your humble beginnings and make your mark on the world.
It was a fine slice of alt-rock, reminiscent of R.E.M. and Pearl Jam. Thomassen and Knutsen's guitars took centre stage, paying tribute to the spirit of Burås. Meanwhile, Høyem made his way into the photo pit. He clasped hands with fans before propelling himself into the audience, all without missing a beat. The surge to shake hands showed how beloved this band remains.
After two intense hours, the show ended with Valley of Deception, a soulful waltzing spiritual. As the band took their bows to a standing ovation, the crew ingeniously segued playback of Elvis Presley's Peace In The Valley. This similarly paced 'valley' track acted like a sequel to Madrugada's song.
Madrugada setlist
As the band departed, Høyem promised that they will be back. Thankfully you have time to get acquainted with their back catalogue, and maybe discover a new favourite band. Here's the setlist (with the tracklisting as it appears on the album Industrial Silence in brackets) plus a Spotify playlist of the recorded versions of the songs.
Vocal (1)
Belladonna (10)
Higher (4)
Sirens (5)
Shine (3)
This Old House (7)
Strange Colour Blue (6) / State Trooper
Salt (9)
Norwegian Hammerworks Corp. (11)
Beautyproof (2)
Quite Emotional (12)
Terraplane (13)
Electric (8)
ENCORE
Black Mambo
Hands Up – I Love You
What's On Your Mind?
Majesty
The Kids Are On High Street
Valley of Deception
Check out musiccloseup.com for more music news and reviews.